Serious Game Classification
Ars Regendi (Ars Regendi: The Art of Politics) Redmaze (Allemagne), Redmaze (Allemagne), 2008 Jouer à ce jeu !
Classification
SERIOUS GAME
(Newsgame)
Mots-clés
Intention
En plus de son aspect ludique, ce titre à pour intention de :
Diffuser un message informatif
---
Marché
Ce titre est utilisé au sein des domaines suivants :
---
Public
Ce titre s'adresse aux publics suivants :
Age :
17-25
/
25-35
Grand Public
---
Gameplay
Le gameplay de ce titre est de type
Jeu
(avec objectifs explicites à accomplir)
Le coeur du gameplay est créé par les règles :
---
Jeux similaires
---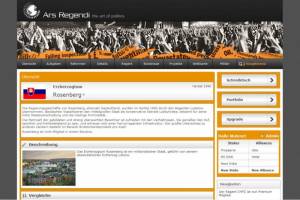 Jeu de simulation économique et politique basé sur un modèle économique et des théories scientifiques. Le jeu se joue sur un navigateur Internet essentiellement en mode texte.
Distribution :
Internet - Commercial - Free
Support(s) :
Browser
Liens additionels
---
---