Serious Game Classification
Science Pirates: The Curse of Brownbeard New Mexico State University (USA) Learning Games Lab (Etats-Unis), New Mexico State University (USA) – US Department of Agriculture (Etats-Unis), 2009 Télécharger ce jeu !
Classification
SERIOUS GAME
(Newsgame)
Mots-clés
Intention
En plus de son aspect ludique, ce titre à pour intention de :
Diffuser un message éducatif
Diffuser un message informatif
Dispenser un entraînement
---
Marché
Ce titre est utilisé au sein des domaines suivants :
---
Public
Ce titre s'adresse aux publics suivants :
Age :
8-11
/
12-16
---
Gameplay
Le gameplay de ce titre est de type
Jeu
(avec objectifs explicites à accomplir)
---
Jeux similaires
---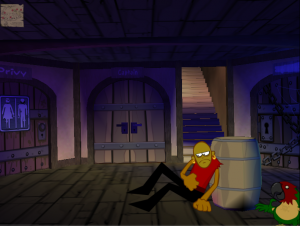 C'est un jeu d'aventure monojoueur en 2,5D. Le graphisme est de style cartoon. L'utilisateur incarne un pirate (garçon ou fille selon l'avatar choisi) et participe à une chasse au trésor. Différentes épreuves ponctuent l'aventure : jeux de réflexion, quête d'objets… ce titre permet à l'enfant de découvrir en parallèle des notions liées à l'hygiène alimentaire et des notions scientifiques associées. La durée du jeu est estimée à 90 minutes environ.
Distribution :
Internet - Free
Support(s) :
Macintosh
-
PC (Windows)
Liens additionels
---
---