Serious Game Classification
Pamoja Mtaani ((from Swahili to English: Together in the Hood) ) Virtual Heroes Inc. (Etats-Unis), 2008 Télécharger ce jeu !
Classification
SERIOUS GAME
(Edugame (Ludo-éducatif))
Mots-clés
Intention
En plus de son aspect ludique, ce titre à pour intention de :
Diffuser un message éducatif
---
Marché
Ce titre est utilisé au sein des domaines suivants :
Santé
Humanitaire & Caritatif
---
Public
Ce titre s'adresse aux publics suivants :
Age :
17-25
Grand Public
---
Gameplay
Le gameplay de ce titre est de type
Jeu
(avec objectifs explicites à accomplir)
---
Jeux similaires
---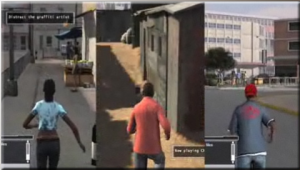 Jeu vidéo pour la prévention du Sida au Kenya. Le jeu simule la vie à Nairobi et essaye de sensibiliser les jeunes à la manière d'éviter d'être contaminé.
Distribution :
Free
Support(s) :
Arcade
-
PC (Windows)
Liens additionels
---
---