Serious Game Classification
The real ButtHead TonaZ Alberto Zano (Italie), TonaZ Alberto Zano (Italie), 2006 Jouer à ce jeu !
Classification
SERIOUS GAME
(Edumarket Game)
Intention
En plus de son aspect ludique, ce titre à pour intention de :
Diffuser un message informatif
Diffuser un message de marketing ou communication
---
Marché
Ce titre est utilisé au sein des domaines suivants :
Divertissement
Entreprise
---
Public
Ce titre s'adresse aux publics suivants :
Age :
17-25
/
25-35
Grand Public
---
Gameplay
Le gameplay de ce titre est de type
Jeu
(avec objectifs explicites à accomplir)
Le coeur du gameplay est créé par les règles :
---
Jeux similaires
---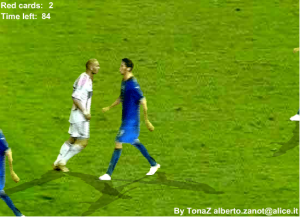 The real ButtHead invite l'utilisateur à positionner Zidane devant plusieurs Materazzi pour les faire disparaître avec un coup de tête.
Lors de la coupe du monde de football en 2006, le coup de tête de Zidane sur Materazzi a donné lieu à ce jeu Flash dont la vocation est de s'appuyer sur le marketing viral pour relater les faits et probablement faire connaître l'auteur de l'application.
Distribution :
Internet - Free
Support(s) :
Browser (Flash)
Liens additionels
---
---