Serious Game Classification
Cooking with chocolate based sauces (Revisited) Daniel Burgos / Pablo Moreno-Ger / Bruno Torijano (Espagne), Complutense University of Madrid (Espagne), 2008 Télécharger ce jeu !
Classification
SERIOUS GAME
(Edugame (Ludo-éducatif))
Mots-clés
Intention
En plus de son aspect ludique, ce titre à pour intention de :
Diffuser un message éducatif
---
Marché
Ce titre est utilisé au sein des domaines suivants :
---
Public
Ce titre s'adresse aux publics suivants :
Age :
12-16
/
17-25
/
25-35
Grand Public
---
Gameplay
Le gameplay de ce titre est de type
Jeu
(avec objectifs explicites à accomplir)
Le coeur du gameplay est créé par les règles :
---
Jeux similaires
---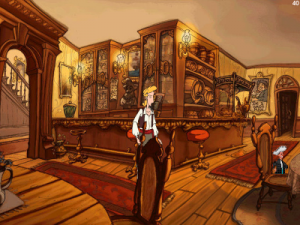 Un jeu d'aventure dans le genre "Point & Click" destiné à vous apprendre les bases de la cuisine au chocolat.
Il s'agit d'un remake d'un précédent jeu éponyme.
Distribution :
Internet - Open Source - Free
Support(s) :
Macintosh
-
PC (Linux)
-
PC (Windows)
Liens additionels
---
---