Serious Game Classification
Putt-Putt Goes to the Moon Humongous Entertainment (Etats-Unis), Atari (Etats-Unis), 1993 Télécharger ce jeu !
Classification
RETRO SERIOUS GAME
(Exergame)
Mots-clés
Intention
En plus de son aspect ludique, ce titre à pour intention de :
Dispenser un entraînement
Raconter une histoire
---
Marché
Ce titre est utilisé au sein des domaines suivants :
---
Public
Ce titre s'adresse aux publics suivants :
Age :
3-7
Grand Public
---
Gameplay
Le gameplay de ce titre est de type
Jeu
(avec objectifs explicites à accomplir)
Le coeur du gameplay est créé par les règles :
---
Jeux similaires
---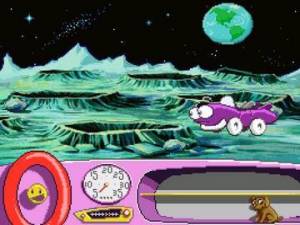 Jeu d'aventure pédagogique en anglais. Le joueur doit aider le petite voiture Putt-Putt qui se trouve sur la Lune à collecter tous les éléments d'une fusée pour rentrer sur Terre.
Distribution :
Retail - Commercial
Support(s) :
Macintosh
-
PC (Dos)
-
3DO
-
PC (Windows)
Liens additionels
---
---