Classification
RETRO SERIOUS GAME
(Edugame)
Keywords
Purpose
Besides play, this title features the following intents:
Educative message broadcasting
Storytelling
---
Market
This title is used by the following domains:
---
Audience
This title targets the following audience:
Age :
3-7
/
8-11
/
12-16
General Public
---
Gameplay
The gameplay of this title is
Game-based
(designed with stated goals)
The core of gameplay is defined by the rules below:
---
Similar games
---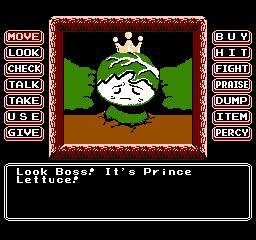 This game was designed to raise japanese kids awareness about the need to eat vegetables.
Many growing seasons ago, the Salad Kingdom was a peaceful land. But one day, minister Pumpkin betrayed king Broccoli, kidnapped princess Tomato, stole the royal Turnip Emblem, and took them to his castle in Zucchini mountains. He sent his cruel Farmies to terrorize the Salad Kingdom. Shortly thereafter, the king died, unable to recover from the loss of his beautiful daughter. But he promised you, the brave Sir Cucumber, the princess' hand and the entire kingdom, if you save the beautiful Tomato from the clutches of the evil Pumpkin.
Princess Tomato is an adventure game in which the player interacts with the environment by choosing commands from a menu, such as the traditional "check" or "give", and the less traditional "praise" or "percy". Percy is a little persimmon who will be the hero's trusty side-kick throughout the quest and will help him on many occasions. The puzzles are on the simple side, and are primarily based on talking to characters, finding items and giving them. [source:mobygames]
A remake of the computer game Salad no Kuni no Tomato-hime was made in 1988; it features re-designed characters and locations, some changes in dialogue and story, menu-based interaction instead of a text parser, and the addition of a rock-paper-scissors-like mini-game Finger Battle.
Distribution :
Retail - Commercial
Platform(s) :
FM-7
-
MSX
-
NES (Famicom)
-
Wii
Links