Classification
SERIOUS GAME
(Newsgame)
Purpose
Besides play, this title features the following intents:
Informative message broadcasting
---
Market
This title is used by the following domains:
Entertainment
Humanitarian & Caritative
---
Audience
This title targets the following audience:
Age :
12-16
/
17-25
General Public
---
Gameplay
The gameplay of this title is
Game-based
(designed with stated goals)
The core of gameplay is defined by the rules below:
---
---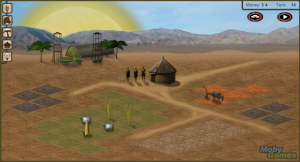 3rd World Farmer is a browser-based serious game about the hardships faced by farmers in developing countries.
The player controls a small family of farmers and makes decisions about what crops to plant, what livestock to raise, which tools and structures to invest in, and which community projects to pursue. Also, each of the family members have a set of available actions, so it's possible to send children to school, for women to have children, or for a family member to go and look for a job in the city instead of living on the farm.
Crops, livestock, tools, structures, education and medical care all cost money, and income for the family is in turn influenced by the types of investments made. Each turn, after the player has made his investments, a random 'event of the year' is also triggered, further influencing the outcome. These events may be anything from a 'Great Harvest' to 'Civil War', 'Raid by Guerillas', 'Crash of the National Bank', or the more common droughts, bush fires, crop failures and livestock diseases.
The game rules are unfair, if somewhat random, and thus the farmer family's economy is often toppled by the random events. When this happens, family members may get sick and die from starvation, but sometimes the family will be offered shady deals when in peril. For instance, they might be offered to sell off one of the children or to lease their land out for chemical waste storage, guerilla training camps or opium farming. These turns in events are quite contrary to the build-and-prosper expectations normally raised by the genre of the game, and this contrast is used rethorically to convey the serious message of the game.
The game ends when all members of the player family has either died from starvation, left the farm or managed to invest wisely in community projects such as health clinics, schools, infrastructure and communications, and bring the entire community to a sustainable level.
At the end of the game, players are encouraged to visit any of a number of relief agencies websites in order to learn more about the problems in developing countries and donate money or get personally involved. [source:mobygames]
Distribution :
Internet - Free
Platform(s) :
Browser (Flash)
Links