Serious Game Classification
Street Fighter II (SF2) Capcom (Akira Nishitani (Nin Nin) / Akira Yasuda (Akiman)) (Japan), Capcom (Japan), 1991
Classification
VIDEO GAME
Keywords
Market
This title is used by the following domains:
---
Audience
This title targets the following audience:
Age :
12-16
/
17-25
General Public
---
Gameplay
The gameplay of this title is
Game-based
(designed with stated goals)
The core of gameplay is defined by the rules below:
---
Similar games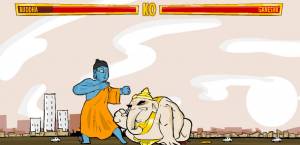 Faith Fighter
---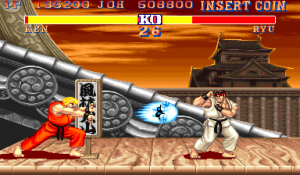 Street Fighter II is a 1991 head-to-head fighting game produced by Capcom originally released as a coin-operated arcade game. A sequel to Capcom's 1987 fighting game Street Fighter, Street Fighter II improved upon the many concepts introduced in the first game (including the use of command-based special moves and a six-button configuration), while offering players a selection of multiple playable characters, each with their own unique fighting style and special moves. Street Fighter II is credited for starting the fighting game boom during the 1990s. Its success led to the production of several updated versions, each offering additional features and characters over previous versions, as well as many home versions. Some of the home versions of the Street Fighter II games have sold millions of copies, with the SNES port of the first Street Fighter II being Capcom's best-selling consumer game of all-time as of 2008. [source:wikipedia]
According the Guisness Book (Gamer's Edition 2009), this title would be the first fighting video game to introduce combos (p.21).
Distribution :
Retail - Commercial
Platform(s) :
3DO
-
Arcade
-
Commodore 64
-
Gameboy (GB)
-
GameBoy Advance (GBA)
-
Genesis (Megadrive)
-
PlayStation 2 (PS2)
-
PlayStation Portable (PSP)
-
Sega Saturn
-
Super Nintendo (SNES)
-
Wii
-
Xbox
-
ZX Spectrum
-
PC (Dos)
-
Amiga
-
Atari ST
Links
---
---