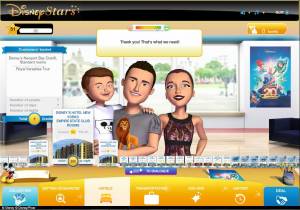 "Disney Stars" is an innovative Serious Game that was designed and developed by KTM Advance. It is available on a web site dedicated to 100,000 European travel agents selling the destination Disneyland Paris.
Two phases are proposed to meet the two key educational goals. After logging in, the travel agent is, in a 1st phase of the game, put into a sales conversation. For each sale, the type of client is randomly generated according to specific rules, allowing the player to meet a wide learning typology of consumers identified in the field. Each customer is therefore carrying a profile of needs and constraints from real situations.
The player's objective is to develop the perfect holidays for his virtual client, based on his needs and wants. The learning player can build on:
- A sales process in several stages
- Communication actions
- Products and Services
- Customer objection‐handling (inspired by real‐life situations)
All of these elements is represented by action blocks (questions, sales pitch) and cards (products, services, arguments to objections).
A successful sale is sanctioned by a score and the ability to "accompany" the client in his trip to Disneyland Paris. The agent is in charge to provide maximum service to his customers during their virtual trip to Disneyland Paris (travel, directions, catering, free time, special needs, etc.). Put in a situation, he acquires a large amount of practical and qualitative information that we want to communicate to him.
Throughout his stay, the client and his family face a number of questions, needs, schedules, or inconvenience (for example, their 3 year‐old child is too small to participate in the Space Mountain roller coaster attraction).
This information is provided to the player whose objective is to find a solution to the inconvenience in question. In their search, he discovers and collects information on all aspects of products and services of the resort. For every problem solved, the player gains experience points and playing cards (new product, talking points ...) that he will be able to use in future sales. These new cards will allow him to offer a wider choice to future clients or to use all new arguments to counter customer objections, as well.
This serious game, dedicated to the 140 000 European travel agents, meets several training needs:
- Improving the ability of travel agents to optimize their sales, break stereotypes, as well as knowing how to conduct an efficient sales meeting and proposing an optimized purchase based on the respective customer profile.
- Improving the quality of prescribing travel agents in charge of this destination, by assimilating all products and services of the resort (Disneyland, Disney Studios Park, Disney Village Hotels and area).
Distribution :
Internet - Free
Platform(s) :
Browser (Flash)
Links