Classification
SERIOUS GAME
(Edugame)
Keywords
Purpose
Besides play, this title features the following intents:
Educative message broadcasting
---
Market
This title is used by the following domains:
---
Audience
This title targets the following audience:
Age :
12-16
Students
---
Gameplay
The gameplay of this title is
Game-based
(designed with stated goals)
---
Similar games
---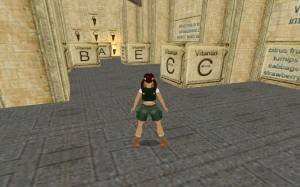 Science and Technology game was created by using Tomb Raider Level Editor. However, some features of Tomb Raider game were also changed for the educational purposes of Science and Technology game. Firstly, in the original game Lara Croft uses various guns. This characteristic of the game was not suitable for students. Therefore, the guns were removed from the game. Also, in original game Lara Croft is mostly adult, only in few parts of the original game the character was child Lara. In Science and Technology game child Lara character was used. The game covers some topics under Science and Technology Course. Those subjects are covered under game's levels. Levels are:
Level-1: Photosynthesis
Level-2: Vitamin
Level-3: Fat, Protein, Carbohydrates
The game covers Photosynthesis, Vitamins, Fat, Proteins and Carbohydrates subjects of Science and Technology course. The character Lara falls in to a place and the player is verbally instructed as to escape from this place he/she has to find three crystal keys. When the player supplies water and sun light to the trees in the game he/she can get the first crystal key. After placing correct vitamin blocks to correct cavities by using the hints, the user can get second crystal key. For the last crystal key, the user should answer five questions related to Fat, Proteins and Carbohydrates. The user should jump correct square (P square for Proteins, F square for Fat and C square for Carbohydrates) to answer the questions. Therefore, the whole game gives chance to the users revise their content knowledge in an entertaining game environment.
Distribution :
Internet - Free
Platform(s) :
PC (Windows)
Links