Classification
RETRO SERIOUS GAME
(Edugame)
Keywords
Purpose
Besides play, this title features the following intents:
Licensed title
Educative message broadcasting
---
Market
This title is used by the following domains:
---
Audience
This title targets the following audience:
Age :
12-16
/
17-25
/
8-11
General Public
---
Gameplay
The gameplay of this title is
Game-based
(designed with stated goals)
The core of gameplay is defined by the rules below:
---
Similar games
---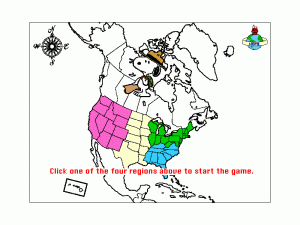 Yearn2Learn: Master Snoopy's World Geography is a game that attempts to teach children about geography.
There are two separate lessons in this game. The first teaches children about the stares of the USA, where they are and what their names are. The second teaches children about other countries in the world and where they are located.
The 'Geography Puzzle Game' is the game that teaches the US states. It has two modes of play, easy and hard. Both modes of play break the states of mainland USA (i.e. not including Alaska & Hawaii) into four zones. The player selects a zone and is presented with a sliding tile type of puzzle in which the tiles are in the shape of the states in the selected zone. In the easy mode all the player has to do is place the tile into its correct position and the game will display and speak the state's name. When all states have been positioned correctly Snoopy walks on screen waving the US flag and music plays. In the hard mode the player again places the state in its correct position, upon which the game displays a list of all the states in the zone, so that the player can choose the correct name for the state that has just been placed.
The Great Country Shoot game takes place in a circus in front of a globe and is a 1 or 2 player game. The player is asked to help one of the Snoopy characters find a country. The player jumps into a cannon, the globe spins, the player clicks on a region with their mouse and the character is fired from the cannon to parachute down to the selected location. If the player has selected the correct location the player gets a message of congratulation and is shown the character standing in the designated country.
The gameplay changes depending upon the level that has been achieved by the player(s). In level 1 when the player is asked to locate a country the correct region of globe flashes red/green before the globe spins so that all the player must do is click on that region as it comes into view. In level 2 the player proceeds as in level 1 but when the region has been selected correctly the player must then select the correct country from the regional map. Level 3 is the same as level 2 but with a wider range of countries. Levels 4 to 7 have progressively more obscure countries to find and give no hints as to which region of the globe they are in. There are ten questions per level and at the end of the level the player is given their score. [source:mobygames]
Distribution :
Retail - Commercial
Platform(s) :
Macintosh
-
PC (Windows)
Links