Classification
RETRO SERIOUS GAME
(Edugame)
Keywords
Purpose
Besides play, this title features the following intents:
Educative message broadcasting
---
Market
This title is used by the following domains:
---
Audience
This title targets the following audience:
Age :
12-16
/
17-25
/
8-11
General Public
---
Gameplay
The gameplay of this title is
Game-based
(designed with stated goals)
The core of gameplay is defined by the rules below:
---
Similar games
---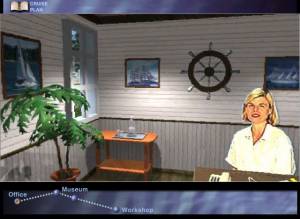 A strategy/simulation game that includes a little bit of education, Titanic: Challenge of Discovery puts you in the lead of an underwater archaeological team charged with finding three diverse famous wrecks: the Roman galley Isis, the German battleship Bismark, and then the starring ship, the RMS Titanic.
With both a limited budget and window of opportunity, you must assemble a crew and equipment, then research the legends and tales of the wrecks to find a general area to search. Once you're out at sea, you'll use the common tools of the trade, from towed sonar to remote controlled submersibles to look for signs of debris. With a probable location, you can then excavate valuable historical pieces. Doing all this while maintaining a happy, healthy crew and not losing any equipment will give you the points you need to tackle the next target.
Crew members have hidden stats, which affect how long it takes for jobs and how well they're done. Weather and sea conditions can affect your choices for the day, as poor situations could make searching not only difficult, but also dangerous.
The game is played primarily through a bunch of control panels similar to ship systems. In addition, the Jason remote controlled vehicle and Discovery sub are controlled in a first-person sim like situation, with the dark ocean bottom displayed before you in 3-D Graphics.
The game is primarily for those interested in the deep sea searching, as much of the time is spent listening to sonar traces and examining the ocean floor, determining what is a piece of a Roman galley and what's a WWII fighter. [source:mobygames]
Distribution :
Retail - Commercial
Platform(s) :
PC (Windows)
Links