Classification
RETRO SERIOUS GAME
(Newsgame)
Keywords
Purpose
Besides play, this title features the following intents:
Educative message broadcasting
Informative message broadcasting
Subjective message broadcasting
---
Market
This title is used by the following domains:
Entertainment
Education
Humanitarian & Caritative
Religious
---
Audience
This title targets the following audience:
Age :
12-16
/
17-25
/
8-11
General Public
---
Gameplay
The gameplay of this title is
Game-based
(designed with stated goals)
The core of gameplay is defined by the rules below:
---
Similar games
---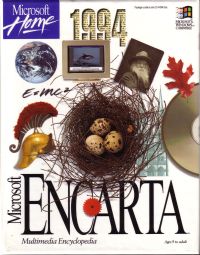 Microsoft Encarta is an encyclopedia program by Microsoft Corporation. Included, from Encarta 94 to Encarta 2007, with minor user-interface variations between versions, is the educational game MindMaze. (Earlier versions have a direct link in the main menu, later versions hide it behind the Ctrl-Z shortcut.)
In MindMaze, while reading Encarta, the player is transported back in time to break the curse on King Miser the First's castle. The castle consists of several floors, each floor holding 100 rooms in a 10x10 grid. To unlock a door between rooms, the player must correctly answer a multiple-choice, timed trivia question. While the exit is marked, the road leading to the exit has many twists and turns. Dead-ends are common, though retracing steps does not require answering more questions. Points are added to the player's score with each correctly answered question. Once the points reach a certain level, the next floor reached will be the king's throne room, breaking the curse, and winning the game. Answering a question wrong twice in a row will cause the question to reset, though no points are lost. There is a character in each room who will talk to you, and there are paintings on the walls that lead to Encarta articles.
Four difficulty levels of questions are included, and nine different selectable trivia categories are included, along with an "all of the above" option. Higher difficulty questions give more points when solved. Five torches are included, which will reveal the path to the next floor for a short time if used. When answering a question, an article link is next to each potential answer, letting the player research the answer. [source:mobygames]
Distribution :
Retail - Internet - Commercial
Platform(s) :
Browser
-
PC (Windows)
Links