Classification
RETRO SERIOUS GAME
(Edugame)
Keywords
Purpose
Besides play, this title features the following intents:
Educative message broadcasting
---
Market
This title is used by the following domains:
---
Audience
This title targets the following audience:
Age :
12-16
/
17-25
/
8-11
General Public
---
Gameplay
The gameplay of this title is
Game-based
(designed with stated goals)
The core of gameplay is defined by the rules below:
---
Similar games
---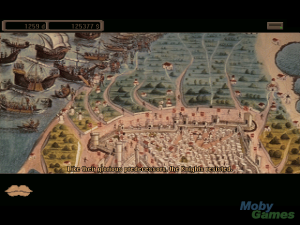 In Treasure Hunter you play the nephew of Tuck Pinkleton, an old sailor and explorer who lives in the North American seaside village of Golden Greek. Your uncle has built a maritime museum with 5000 square meters of exhibit floor space, but there is no money left to fund the exhibits. He knows a solution though, as there are thousands of shipwrecks around the world filled with dazzling treasures. As he is too old, he asks you to search for these treasures, and he supplies you with his yacht, a computer with vidphone, and $30,000 to start. You first task is to find a crew and the necessary info for your first mission.
To complete the game, you have to go on five missions. For each mission you have to research the history of the wreck, acquire funding, and hire a crew. The actual search is shown through a series of slide show presentations that can be viewed in your computer. In two cases it is sufficient to explore the village and to contact experts using your vidphone. For the other missions you have to fly to Seville to explore a museum, to Malta to explore an abbey, and to Emerald Island near Madagascar where you have to find your way in a maze-like cave.
As an edutainment game, Treasure Hunter includes many "cut-scenes" (slide shows) with historical information. Exploring the locations from a first-person perspective, you move around using a directional cursor that allows you to turn around at certain stopping points, with transitional movies between these points. At the top of the action window the number of days and total of your funds are shown. When the cursor is moved to the bottom of the screen action icons are shown (e.g. to move or take things), a travel bag for inventory items, a plane to travel, and your computer. The game has only six saving slots (all the saves start at the first location of a mission). The game has a hint system that is activated when you are stuck for some time (your computer icon will flash). The main menu includes a bonus option (to view historical sequences, books, museum, and reconstitutions of wrecks & treasures). [source:mobygames]
Distribution :
Retail - Commercial
Platform(s) :
PC (Windows)
Links