Classification
RETRO SERIOUS GAME
(Edugame)
Keywords
Purpose
Besides play, this title features the following intents:
Educative message broadcasting
---
Market
This title is used by the following domains:
---
Audience
This title targets the following audience:
Age :
12-16
/
17-25
/
8-11
General Public
---
Gameplay
The gameplay of this title is
Game-based
(designed with stated goals)
The core of gameplay is defined by the rules below:
---
Similar games
---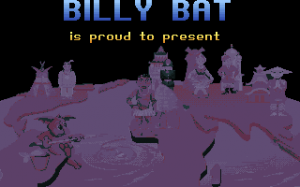 Billy Bat (odd looking bat to say the least) proudly brags that he's the fastest animal in the world. Robby the Rabbit challenges his claim with a bet to race around the world. As Robby the Rabbit races off in a cloud of dust, Billy Bat second guesses himself and takes off...to the airport. Join Billy Bat in his adventures around the world!
The primary educational function of the game is to teach children of international cultures. There are four mini games available, where 2 of them are educational:Matching Game: the matching game consists of matching a country's name with the appropriate flag, national costume/dress and the national building type. The matching game has 6 levels of difficulty to choose from.
Puzzle (Jigsaw Puzzle): at the world map screen, you direct Billy the Bat to a specific geographical location. The puzzle consists of 2 different types. The first is "Puzzle Completion" is the standard jigsaw puzzle where you are to complete a picture representing the local culture. The second is "Jumbled Puzzle", where you all the pieces are in place and you have to switch the pieces to complete the picture. While completing the puzzle, you can click on further information about the culture of that particular country/nation. There are 6 levels of difficulty for each puzzle.
The Mission to Rescue Billy Bat: Robby the Rabbit is irritated that Billy Bat went off on a plane. This rabbit buddies kidnapped Billy Bat as a lesson to him. Now you have to rescue the chained Billy Bat from his prison cave by bulldozing your way through the various mazes before your oxygen tank runs out. There are three difficulty levels available for this arcade game.
Billy Bat and the Treasure Cave: Billy Bat is looking for treasure (what does this have to do with the storyline?) in an abandoned treasure cave. Help Billy Bat move his train along the system of mazes while collecting various gold coins, crowns, and diamonds along the way. There are three difficulty levels available for this arcade game. [source:mobygames]
Distribution :
Retail - Commercial
Platform(s) :
PC (Dos)
Links