Classification
SERIOUS GAME
(Exergame)
Keywords
Purpose
Besides play, this title features the following intents:
---
Market
This title is used by the following domains:
---
Audience
This title targets the following audience:
Age :
12-16
/
17-25
General Public
---
Gameplay
The gameplay of this title is
Game-based
(designed with stated goals)
The core of gameplay is defined by the rules below:
---
Similar games
---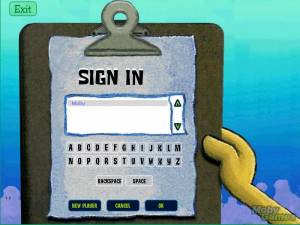 SpongeBob SquarePants, star of the animated childrens television program, is the unlikely typing tutor in this educational game.
Eugene H. Krabs, crabby denizen of Bikini Bottom, has found a strange artifact in a dumpster. When Squidward tells him it's a typewriter, Eugene first tries to cash in by selling it as a "Wordyburger". Not having any luck with that, he sets up a pay-to-enter typing tournament at the Krusty Krab, with a seanut butter & jellyfish jelly sandwich for the grand prize. This proves to be a popular idea, and the resulting line naturally attracts our friend, SpongeBob...
SpongeBob takes you through 20 different lessons, covering all the keys including uppercase and numbers, and working to develop your typing speed and accuracy. Prior to entering the tournament, you can go to a practice center, where you can select from a large list of typing exercises (printable upon completion), or go to Glove World and play the typing mini-games.
These include:Senseless Patrick - Patrick has lost his senses; you are inside his head and must type letters in a maze game to retrieve them.
Snail's Pace Race - Type the words at the bottom of the screen to keep your snail moving along on the racetrack; speed and accuracy count!
Doh Ray Me - Pick a song and type the notes (letter keys) shown to play the music.
A Star is Born - Type the words shown on screen to dress Patrick up in your favorite colors; mix and match to make some truly ridiculous costumes.
Glove World 500 - As you drive, type the words shown on your dashboard; errors manifest as splats on your windshield. Keep your eyes off the road!The tournament itself is actually the lesson series, each one consisting of a tutorial, a drill, keystroke practice, an activity from the Glove World games, and a quiz. As you successfully complete each lesson you are considered to have won a tournament round, and the cut-scenes in between rounds are little vignettes about the character you will be facing off against next. SpongeBob also stresses the importance of ergonomics and proper finger placement - as you play you will see a keyboard on screen with a pair of semi-transparent hands showing the correct placement (I asked someone else to type while I watched, and those hands actually type each letter along with you!).
There are three levels of play - Seaworthy, Sailorific, and Holy Mackerel, so you can up your level for an extra challenge or practice. [source:mobygames]
Distribution :
Retail - Commercial
Platform(s) :
Macintosh
-
PC (Windows)
Links