Classification
SERIOUS GAME
(Edugame)
Keywords
Purpose
Besides play, this title features the following intents:
Training
Educative message broadcasting
---
Market
This title is used by the following domains:
---
Audience
This title targets the following audience:
Age :
12-16
/
17-25
/
3-7
/
8-11
General Public
---
Gameplay
The gameplay of this title is
Game-based
(designed with stated goals)
The core of gameplay is defined by the rules below:
---
Similar games
---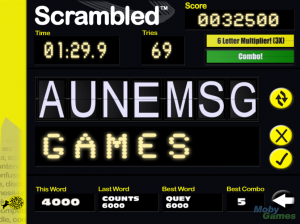 Scrambled is a word game originally developed to be a Scrabble trainer. The game has three modes of gameplay called Timed, Countdown, and Replace.
In each of the modes the player is given a random list of seven letters from which he/she must come up with a word that uses at least three of the letters. Using rarer letters score more points. Longer words score bonuses. Making at least 4-letter words starts a combo counter which acts as a multiplier for each word's score.
Timed mode gives the player a limited amount of time to come up with as many words as possible. Each time the player submits a valid word, he/she is given a new set of seven letters. Each submission is counted as a round and the round time decreases constantly until the player only has 5 seconds per round. When the player fails to come up with a word within the round time, he/she loses a try. Lose all the tries and the game ends, the player is scored and the score is entered into the high scores if it is indeed high.
Countdown mode gives a more relaxed flavor to the game. The player is given no time limit for each round, however there are a limited number of word submissions before the game ends.
Replace mode leaves the letters the player didn't use for his/her word and replaces them with new letters. There are 99 letters and each replacement pulls from that pool. [source:mobygames]
Distribution :
Retail - Commercial
Platform(s) :
Macintosh
-
PC (Windows)
Links