Classification
RETRO SERIOUS GAME
(Edugame)
Keywords
Purpose
Besides play, this title features the following intents:
Educative message broadcasting
---
Market
This title is used by the following domains:
---
Audience
This title targets the following audience:
Age :
12-16
/
17-25
/
8-11
General Public
---
Gameplay
The gameplay of this title is
Game-based
(designed with stated goals)
The core of gameplay is defined by the rules below:
---
Similar games
---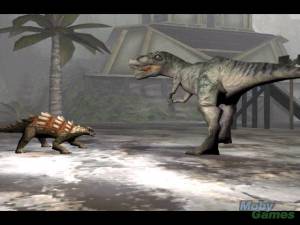 The hit movies of Jurassic Park spawned many imaginative products for kids and this is one of them. Kids love dinosaurs and the mystic surrounding them.
In Scan Command: Jurassic Park the story, as in most movie-based games, is more of a backdrop to the dinosaur battling action the game provides. You will command a dinosaur and build its energy, strength, and other abilities by adding DNA via the real-life barcode scanner provided with the game. The scanner can read almost any type of barcode and it beeps when it collects DNA power-ups that can be used for your in-game dinosaur.
You must guide your DNA skill enhanced dinosaur through ruined laboratories, swamps, and inside a volcano to defeat the villain, Dr. Corts. Several dinosaur enemies and puzzles must be overcome by using the right mix of DNA power-ups, collected by scanning barcodes from common household products in your home or the grocery store. Once you collect DNA, you upload it to the game and decide how to boost or enhance your Velociraptor's, T-Rex's, or Spinosaurus' skills to complete missions.
Installing the game is a little more involved than usual, given the need to install software and get the scanner hardware functional. The violence in the game is diminished compared to the movie and keep at a more kid-appropriate level without blood and with non-lethal combat. [source:mobygames]
Distribution :
Retail - Commercial
Platform(s) :
PC (Windows)
Links