Serious Game Classification
Playhouse Disney's The Book of Pooh: A Story Without a Tail Disney Interactive (U.S.A.), Disney Interactive (U.S.A.), 2002
Classification
SERIOUS GAME
(Newsgame)
Keywords
Purpose
Besides play, this title features the following intents:
Licensed title
Educative message broadcasting
Informative message broadcasting
---
Market
This title is used by the following domains:
Entertainment
Education
Humanitarian & Caritative
---
Audience
This title targets the following audience:
Age :
12-16
/
17-25
/
8-11
/
3-7
General Public
---
Gameplay
The gameplay of this title is
Game-based
(designed with stated goals)
The core of gameplay is defined by the rules below:
---
Similar games
---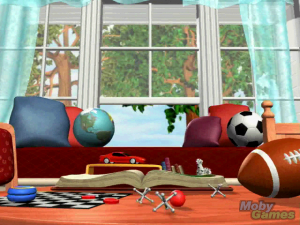 Playhouse Disney's The Book of Pooh: A Story Without a Tail is based on a Disney television series that is in turn based on characters created by the author A. A. Milne. The characters in the game are animated to resemble the Bunraku puppetry style of the series.
As the game begins, Pooh and his friends are gathered in the Hundred Acre Wood discussing the fine-ness of the day when Eeyore announces he has lost his tail. The friends quickly offer to help him find it, and the player can select any of five characters to set off on a search. Each set of searches soon leads to an activity:Bounce with Tigger - bounce Tigger through an apple tree to knock down matching letter apples; Piglet moves back and forth to catch the falling apples. Tigger and Piglet add together the caught and fallen apples after the tree is emptiedPooh's Alphabet Stream - Pooh and Eeyore set Christopher Robin's toy boat afloat; move it back and forth to "catch" objects and their starting letters as it sails downstreamRabbit's Kitchen - select from a cookie cookbook at Rabbit's house; follow recipe measurements and then decorate the treatSing a Song with Kessie - Kessie is looking for the right words to finish her songs; select the correct items from her descriptionPiglet's Short Stories - Eeyore and Piglet come across The Book of Pooh; choose from 12 stories to read and listen to and click on stickers to automatically fill in the illustrationsParents can access an activity completion chart from the beginning scene in the Hundred Acre Wood by pressing CTRL + I; only when the displayed number of activities are finished will the tail be found. Included on the disk are some further printable activities: coloring, cutouts, mazes and puzzles.
As in Playhouse Disney's: Stanley Tiger Tales, the developer utilizes Disney's "Whole Child Curriculum," seeking to cover social, motor, life, thinking, and self-expression skills as well as academic. [source:mobygames]
Distribution :
Retail - Commercial
Platform(s) :
Macintosh
-
PC (Windows)
Links
---
---