Classification
SERIOUS GAME
(Newsgame)
Keywords
Purpose
Besides play, this title features the following intents:
Educative message broadcasting
Informative message broadcasting
---
Market
This title is used by the following domains:
Entertainment
Education
Humanitarian & Caritative
Ecology
---
Audience
This title targets the following audience:
Age :
12-16
/
17-25
/
8-11
/
3-7
General Public
---
Gameplay
The gameplay of this title is
Game-based
(designed with stated goals)
The core of gameplay is defined by the rules below:
---
Similar games
---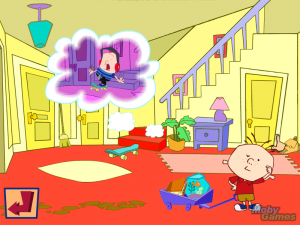 Stanley wants to bring his shark model and real shark tooth to school for Show and Tell, but the model pieces are scattered all around the house and he can't find his shark tooth or his friend Lester's animal cards. In this point and click game, the player takes Stanley through the house and out into his backyard to hunt for the missing things. There are many clickable animations and walk-on characters who dole out snippets of information about sharks and other sea creatures. As in Playhouse Disney: Stanley Tiger Tales, clicking on some objects takes Stanley into his imagination, where he pretends to be anything from a penguin sliding on the snow to a sting ray navigating around obstacles on the ocean floor.
The mini-games :Dolphin Rhapsody - find the dolphins that make the same soundsTentacle Trail Adaptations - guide Stanley the Octopus through a maze to collect a model pieceStingray Stanley's Sweep-up - move Stanley the Stingray along the ocean floor, collecting shark teeth and avoiding obstaclesReady, Set, FLY! - race Stanley the Flying Fish to the finish line, leaping over enemies and collecting fish treatsTurtle Tally - find the turtle with the dots to match a number or equationWhale of a Scale - answer questions about sharks to balance the scale and free the whaleSeahorse Roundup - match the hidden seahorses to their shapesJellyfish Junction - match up pairs of jellyfishAlways present with Stanley are his pet goldfish and the Great Big Book of Everything - the goldfish offers advice, and the book has information about sea creatures from A - Z, printable pages, keeps track of the cards collected and gives access to the high score list. If the player owns Playhouse Disney: Stanley Tiger Tales, the Great Big Book of Everything will also include the animals and facts from that game.
This game is based on Disney's "Whole Child Curriculum", and incorporates social issues like cooperation, responsibility, and ethical choices as well as preschool educational content.
[source:mobygames]
Distribution :
Retail - Commercial
Platform(s) :
Macintosh
-
PC (Windows)
Links