Classification
SERIOUS GAME
(Edugame)
Keywords
Purpose
Besides play, this title features the following intents:
Educative message broadcasting
---
Market
This title is used by the following domains:
Entertainment
Education
Culture & Art
---
Audience
This title targets the following audience:
Age :
3-7
/
8-11
/
12-16
General Public
---
Gameplay
The gameplay of this title is
Game-based
(designed with stated goals)
The core of gameplay is defined by the rules below:
---
Similar games
---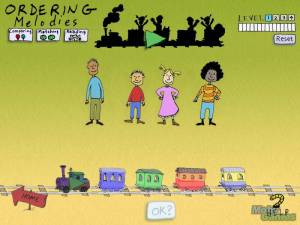 Morton Subotnick is an electronic composer with an interest in promoting musical literacy by providing creative musical play for children. Hearing Music is part of a series that includes Making Music, Making More Music, and Playing Music. The composer deliberately chose to use the word hearing instead of listening to reflect the way we use the words, as in ?Listen! Do you hear what I am saying?!? He expressed the wish ?to offer children, through games, a way to hear what they are listening to.?
This game is meant for children 8 and up. There are two levels of difficulty ? beginner and advanced, and four parts to each level. There are four separate games in all and every action is done with the mouse ? point, click and drag.Reading ? listen to a short piece of music and choose which of two sets of musical notation belongs to itMatching ? click on three bushes, listen to the music they produce, and find the matching pairOrdering ? listen to a piece of music, then listen to the parts of the piece associated with 3 or 4 people and place the people in the correct order Comparing ? listen to two short pieces and decide if they are the same or differentAs you advance through the levels the music pieces become longer and the puzzles somewhat more complex. Finishing a level gives you a success screen, where the animated characters dance around to the Hallelujah chorus from Handel?s Messiah.
Hearing Music also features a narrated book, About Music; 10 chapters all about the way we hear and respond to music, read aloud in a pleasantly quiet voice. [source:mobygames]
Distribution :
Retail - Commercial
Platform(s) :
Macintosh
-
PC (Windows)
Links