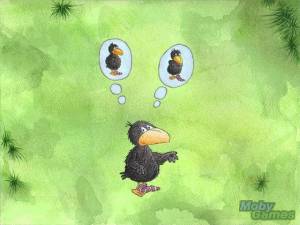 Little Raven and Friends: The Tricycle Story is based on a series of children's books by author Nele Moost and illustrator Annet Rudolph.
When Little Raven happens upon Eddy Bear's bike, he wonders aloud what it is like to ride, and he just can't resist the temptation to hop on and take it for a spin. Well, the inevitable happens - he crashes into a tree, scattering tricycle parts everywhere! Even though he'd like to blame it on the tree, deep down he knows it's all his fault. Being a little worried about consequences, however, he needs help deciding whether or not he should lie to Eddy Bear. After all, Eddy's going to be really mad...
Thus begins the first of several such decisions the player must help Little Raven make in this game; weighing questions about whether to help out a friend even though he's "too busy", whether to stop and refill a bug jar he knocked over, whether to share his cookies, even though that means there will be less for him, and others. The player is asked to make a yes or no choice in each instance, and if he makes a "bad" one, Little Raven is sent immediately to the Time-Out Cave - a hollowed out tree where he must sit and reconsider the choices. A good decision at this point will bring him right back into the game.
The player's goal now is to collect all the parts to Eddy Bear's tricycle by visiting Raven's friends, some of whom are not entirely willing to give up their precious finds and will require some form of assistance or encouragement by way of mini-games:Shell Game - in order to win the horn back from Mole the player must correctly find the shell without the cookie underneath it.
Weights - The player must drag and drop parts to make weights for Wild Boar, so he'll give up the tricycle wheels he's currently using.
Beetles - Rabbit is willing to give up the seat he's about to make into a skateboard, but first the player has to round up a jarful of beetles Little Raven has knocked over.
Glasses - The player must pick Owl's glasses out of a heap of like-patterned things, then drag them over a blurry window to see the tricycle pedals.
Memory Game - Badger will help find the handlebars if Little Raven will explain how to play concentration; the player demonstrates.
Flag - Sheep will give up the foxtail decoration if the player finds him a very specific flag to replace it.
Cheese - Mouse has the tail lights, and will turn them over in exchange for some help pushing a big chunk of cheese into his larder.Actions are performed with the mouse - point, click, and drag. In some games the cursor becomes a grasping paw - to collect beetles and to make the weights. The cheese-pushing game is played using the four arrow keys to move the miniature Raven.
When all the parts are collected and the tricycle reassembled, there is a final racing game where the player can speed up or slow down using the mouse buttons, as well as move side to side to avoid bushes. This game is suggested for 3 years o
Distribution :
Retail - Commercial
Platform(s) :
Macintosh
-
PC (Windows)
Links