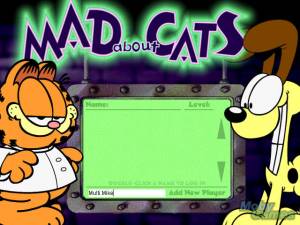 In Garfield's Mad About Cats, Jon expresses displeasure with Garfield's lack of motivation towards performing traditional rodent control duties. Still, Garfield is sympathetic to the mouse problem and assumes his alter-ego of Dr. Frankencat and, along with his assistant Eager (Odie), descends into the mad scientist lab in house dungeon. The mission: create the perfect cat. To that end, Dr. Frankencat uses his computer to identify the most perfect traits of various cats from around the planet and assemble the features into a perfect cat.
The game allows the player to select different feline attributes such as size, roar, tail, and eyes, and then choose a cat from a global map that best showcases the feature. The game plays a brief educational video with a factoid about that cat. These lessons are then interspersed with one of 12 minigames that the player can elect to play before proceeding to the next lesson. The games are:Disco Jon: memorize and replay the flashing button sequence to make Jon boogie to the beat.
Dress-A-Nerd: dress Jon using a variety of zany clothes from his own closet.
Dunk Tank: launch baseballs at moving targets in order to dunk Binky the Clown in the drink.
Soda Shaker: Garfield wants a soda but the soda machine places 4 cans on the table, shakes 3 of them, and swaps several pairs of cans. Pick the unshaken can.
Odie Maze: a sliding tile puzzle where the player has to unscramble the scene so that Odie can make it to the fire hydrant.
Hack Attack: Space Invaders clone - Garfield is being descended upon by a flock of Nermals that shoot cute hearts. Garfield must take out the invaders by hacking up hairballs.
Fowl Shot: stick a chicken in a recliner and launch it at a moving target.
Squash-A-Spider: dozens of spiders are descending on your pizza and coffee; squish them with a rolled-up newspaper.
Burp Game: Breakout clone - Garfield needs to use his belches to bounce a mouse around to get all the cheese bricks.
Matching Madness: a card matching game.
Create-A-Character: an activity where the player can change the upper, middle, and lower sections of a character to create new, mismatched characters.
Whack-A-Rat: clone of the venerable Whack-A-Mole game, with rats. [source:mobygames]
Distribution :
Retail - Commercial
Platform(s) :
Macintosh
-
PC (Windows)
Links