Classification
RETRO SERIOUS GAME
(Edugame)
Keywords
Purpose
Besides play, this title features the following intents:
Educative message broadcasting
---
Market
This title is used by the following domains:
Entertainment
Healthcare
Education
---
Audience
This title targets the following audience:
Age :
12-16
/
17-25
/
8-11
General Public
---
Gameplay
The gameplay of this title is
Game-based
(designed with stated goals)
The core of gameplay is defined by the rules below:
---
Similar games
---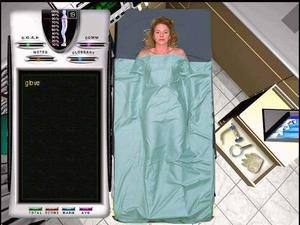 A devastating earthquake hits Los Angeles in the middle of a winter storm causing widespread flooding, mud slides, fires and mass destruction. Countless people are severely injured and many others have died. As panic ensues, a huge pile up occurs on the freeway resulting in even more casualties. All available medical personnel must report to assist with the severe situation. In Disaster Strikes, you will play an active role in the disaster effort.
This is the 3rd game in Legacy Interactive's Emergency Room Series. Like the ones before it, you are a medical student working for Legacy Memorial Hospital in their Emergency Room but instead of staying in the hospital all of the time, you will report to the actual emergency scenes. There you must decide which of the injured are critical enough to be transported to the hospital, and then return to the hospital to treat them. During the selection process you can choose patients by ailment or by selecting the "random" button whereby the computer chooses a patient for you from the 100 available. You will become that person's doctor from the beginning diagnostic exam, to X-ray and laboratory, to performing their treatment and, finally, discharging them. Their lives are in your hands!
As a "rookie" in training, you still have much to learn about medical procedures, tools and treatment. The game provides all you'll need to succeed in your mission including a full medical database and a library. Your co-workers (nurses and doctors) can be called for tips and other help. In addition, you'll be able to explore other rooms of the hospital, including the Doctors Lounge where you can just relax or play the arcade germ warfare game, Shotz.
The game is entirely mouse-driven in point-and-click fashion. Features are similar to Emergency Room 2: Several levels of difficulty, assignment of points for advancement, over 50 medical tools to learn and master, real actors and actresses in the QuickTime FMV scenes. Different patients can be chosen (or randomly selected) in each new game which adds to the replay factor. [source:mobygames]
Distribution :
Retail - Commercial
Platform(s) :
Macintosh
-
PC (Windows)
Links