Classification
SERIOUS GAME
(Edugame)
Keywords
Purpose
Besides play, this title features the following intents:
Educative message broadcasting
Subjective message broadcasting
---
Market
This title is used by the following domains:
Entertainment
Education
Religious
---
Audience
This title targets the following audience:
Age :
12-16
/
17-25
/
8-11
General Public
---
Gameplay
The gameplay of this title is
Game-based
(designed with stated goals)
The core of gameplay is defined by the rules below:
---
Similar games
---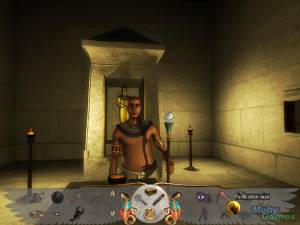 Pharaoh Ramses II is dying. Amon-Re, god of the Sun, will extend his life if Ramses erects a magnificent obelisk in his honor. But the construction on the project is delayed due to accidents and the unexplained illness of the overseer. If the setting of the obelisk is not done in time, Ramses will die!
The desperate Pharaoh turns to Maya, an Egyptian priestess and magician, who possesses the ability to transcend to another plane - the world of the ancient gods of Egypt. It is Ramses' hope that Maya can uncover the mystery behind the problems and ultimately save his life. In her quest to help her king, you play Maya in this mouse-driven, point & click adventure game.
Maya will encounter many problems and puzzles in both the earth realm and in the realm of the gods. Invoking magic and the powers of mystic objects, she periodically leaves her earthly body and enters a dreamlike state. In those visions, Maya will travel to many beautiful locations, meet the Egyptian gods and ask for their intervention. The gods will test her worthiness by asking her to perform tasks and deeds - rewarding her with information or an actual event. The results of Maya's actions in her visions will effect what happens back on the earth plane of Egypt.
While playing The Egyptian Prophecy, experience a story full of authentic Egyptian mythology. Meet and talk with 15 non-player characters, explore six varied locations, and learn to perform ancient ritualistic magic by consulting the in-game encyclopedia.
[source:mobygames]
Distribution :
Retail - Commercial
Platform(s) :
Mobile (Windows Mobile)
-
PC (Windows)
Links