Classification
RETRO SERIOUS GAME
(Edugame)
Keywords
Purpose
Besides play, this title features the following intents:
Educative message broadcasting
---
Market
This title is used by the following domains:
---
Audience
This title targets the following audience:
Age :
12-16
/
17-25
/
8-11
General Public
---
Gameplay
The gameplay of this title is
Game-based
(designed with stated goals)
The core of gameplay is defined by the rules below:
---
Similar games
---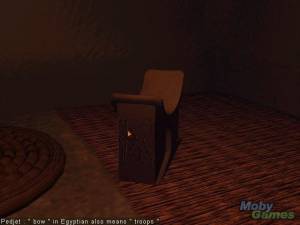 A number of games allow you to search the tombs of ancient Egypt, but few allow you to do so IN ancient Egypt. Taking place (appropriately enough) in 1156 B.C., you play Ramose, a young Egyptian man who hopes to prove himself a worthy investigator for the current rulers of Egypt. Your first assignment is not an easy one, as a Tomb of Sethi I, a pharaoh has been desecrated and looted and your own father has been accused of the crime. You have three days to prove his innocence and stay the sentence of execution.
Gameplay takes place in a first person mode similar to fans of this kind of adventure game. Unlike some games that give you a static, unmoving image to look at, Egypt 1156 B.C. allows you to look around at any location in a smooth turn (similar to QuickTime VR, but with better results). This gives you a 'you are there' feel that many other games lack. All graphics are 3-D rendered and occassionally actions will give you a third person cutscene as a reward. Communication is through a simple branch tree and both talking and puzzle solving involves the manipulation of objects, both in and out of your inventory.
In addition to being a mystery/adventure game, Egypt 1156 B.C. also comes with reference material about ancient Egypt, its people, and its culture. These are available whenever you discover something interesting in the middle of the game or can be accessed via the main menu. [source:mobygames]
Distribution :
Retail - Commercial
Platform(s) :
Macintosh
-
PC (Windows)
-
Playstation (PSX)
Links