Classification
SERIOUS GAME
(Edugame)
Keywords
Purpose
Besides play, this title features the following intents:
Licensed title
Educative message broadcasting
---
Market
This title is used by the following domains:
---
Audience
This title targets the following audience:
Age :
12-16
/
17-25
/
8-11
/
3-7
General Public
---
Gameplay
The gameplay of this title is
Game-based
(designed with stated goals)
The core of gameplay is defined by the rules below:
---
Similar games
---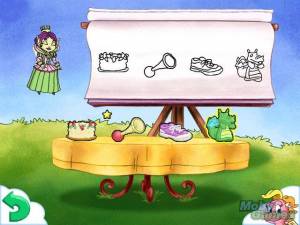 "I wish, I wish, with all my heartto fly with dragons in a land apart" - Emmy and Max, from the Dragon Tales show
Cassie, a young dragon from Dragon Land, has volunteered to help three of her siblings earn their Dragon Badges and learn to fly. As she guides them one by one through Dragon Land they each encounter different situations where they need to give assistance. Among them:Arlo needs to have some junk fitted back into place in his Junkpile - find the right spots for each shape. The items can be dunked in the shrink and grow pools to change their sizesZak and Wheezie, a double-headed dragon pair, can't agree on a toy to play with - choose a toy that meets both of their requirementsA giant has stumbled outside Mr. Dustfree's house and shaken up all his shelves - each shelf needs to be sorted by finishing patterns. There is also a Swirloscope to re-assemble and play with - place crystals on a lens and spin it to see the intricate patterns that are created.The Royal Horseflies have gotten loose and must be re-captured and put into number-defined groupsPrincess Kidoodle is trying to draw, but someone keeps sweeping off the objects she's sketching - the player chooses which item is the missing oneAs each dragon finishes a group of games correctly, he earns a Dragon Badge. Once all three have their badges they can proceed to the training grounds for more mini-games and arcade-style flight lessons.
All actions are accomplished with mouse-clicks; most of the time the cursor is a yellow star that throws off sparkles when there is something to click on, but in some activities it takes on a special shape, such as a net, or an arrow. On the lower left of the screen is a back arrow, and on the right, a character who will help by explaining the current game. At some points there will be a rainbow-hued shape on the left that allows the player to exit or start a new game, and a house icon on the right that takes him back to Cassie's house. This game explores a lot of pre-school skills, most of them precursors to math learning. Skills include counting, number recognition, logic, patterns and sequencing, shapes and sizes, matching, memory, and classifying.
Dragon Tales: Learn & Fly With Dragons is based on the Dragon Tales Public Television series created by Nina Elias-Bamberger, which is in turn based on original characters created by Ron Rodecker. [source:mobygames]
Distribution :
Retail - Commercial
Platform(s) :
Macintosh
-
PC (Windows)
Links