Classification
SERIOUS GAME
(Edugame)
Keywords
Purpose
Besides play, this title features the following intents:
Educative message broadcasting
Licensed title
---
Market
This title is used by the following domains:
---
Audience
This title targets the following audience:
Age :
3-7
General Public
---
Gameplay
The gameplay of this title is
Game-based
(designed with stated goals)
The core of gameplay is defined by the rules below:
---
Similar games
---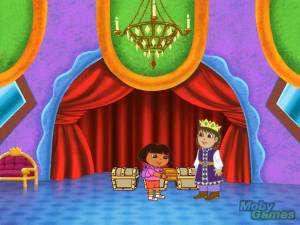 "Find the Dragon's magic rings
Teach the Giant Rocks to sing
Turn Winter into Spring
Bring the Moon to the Queen and King"
- Dora's quest, as quoted by a character in the game
Fairytale Adventure follows the adventures of Dora, the young Hispanic star of the animated television series Dora the Explorer, as she sets out on a quest to become a real princess and wake her sidekick Boots from an enchanted sleep.
As in other games in the Dora series, you are given a number of choices when you begin: you pick a color and key style for your "keychain" and decorate it with a sticker. Once you've entered your name and clicked the ¡Vamanos! button, you can choose whether to play the entire adventure or just pick from the mini-games. Choose your level of difficulty - 1, 2 or 3 - which can be changed whenever you feel the need. A mouse is the only tool you need to play (a printer is optional - there are some printable stories and coloring pages); actions are performed by pointing, clicking, and dragging.
You play as Dora's assistant as she travels through Fairytale Land, overcoming obstacles that that a wicked witch throws in her path, collecting Explorer Stars and helping her solve some mini-games that will win her items to aid in the quest:Open the Dragon Cave - Color matchingFind the Magic Rings - Color/shape matchingSave the Giant's Pets - A little maze gameTeach the Giant Rocks to sing - Use an item you've won to teach the Rocks, and then you can use the Music BoxPlay the Music Box - Create songs and play back at different speedsDress the Snowmen - Color/size matchingTurn Winter to Spring - Drag the sun around on the page to bring Spring back to Fairytale LandUse the Magic Hairbrush - Help Dora grow her hair a la RapunzelCatch the Stars - Numbers, coordination (a simple arcade game) In addition, there are three classic fairy tales in the game (The Three Little Pigs, Jack and the Beanstalk, and The Gingerbread Man) that can be read or listened to in English or Spanish. Each book comes with coloring pages that you can paint/sticker on screen and print, or you can print the entire book to color in later. [source:mobygames]
Distribution :
Retail - Commercial
Platform(s) :
PC (Windows)
Links