Classification
SERIOUS GAME
(Edugame)
Keywords
Purpose
Besides play, this title features the following intents:
Licensed title
Educative message broadcasting
---
Market
This title is used by the following domains:
---
Audience
This title targets the following audience:
Age :
12-16
/
17-25
/
3-7
/
8-11
General Public
---
Gameplay
The gameplay of this title is
Game-based
(designed with stated goals)
The core of gameplay is defined by the rules below:
---
Similar games
---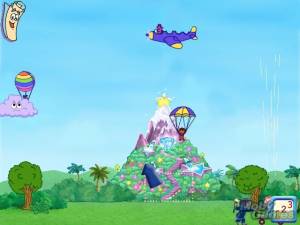 Dora the Explorer is a very young Latina who speaks English peppered with Spanish words. She stars in an animated children's television series that premiered in the US in 1999.
In Dance to the Rescue, Dora and her little monkey sidekick, Boots, have to rescue their fox friend Swiper from his imprisonment in a bottle. He's been trapped there by the (not very) mean Dancing Elf, and to set him free Dora has to enter the King's dance contest and win One Big Wish. But first, she has to learn the latest dance moves, and that's where you come in...
As a new player you are taken to the sign-in screen, where you pick a color and stickers to decorate the Dance Adventure Center, type your name, and then click on the vamanos button (Dora icon) to pick your level on the next screen. Every action in the game is performed with the mouse - clicking on items and occasionally moving the mouse. During the game you have two constant icons - the map, which allows you to visit different areas and helps you to keep track of where you've been, and the level icon; if the game level is too easy or too difficult you can change it mid-game.
You and Dora and company must visit five locations on the map and learn several different dances before you can go to the castle in your quest to free Swiper. At the culmination of the game you are able to visit the Dance Adventure Center and create dance videos, listen to music, and print out your favorite dance moves. [source:mobygames]
Distribution :
Retail - Commercial
Platform(s) :
PC (Windows)
Links