Classification
SERIOUS GAME
(Edugame)
Keywords
Purpose
Besides play, this title features the following intents:
Licensed title
Educative message broadcasting
---
Market
This title is used by the following domains:
---
Audience
This title targets the following audience:
Age :
12-16
/
17-25
/
8-11
/
3-7
General Public
---
Gameplay
The gameplay of this title is
Game-based
(designed with stated goals)
The core of gameplay is defined by the rules below:
---
Similar games
---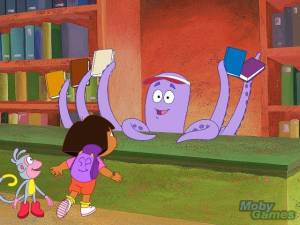 When you first enter this game you are taken to a series of pages for signing in and decorating the sticker book that you can access after you earn some stickers. You are given the option to play the game fully (Backpack Adventure Mode), or to enter the Map Mode and play the mini-games in whatever order you like. The mini-games are designed to exercise some early-childhood skills; color recognition, problem solving, shape recognition, pattern completion, number recognition, classification, mousing skills.
Dora the Explorer, the little heroine of the animated TV series, has a brand new backpack from her parents. You'll help her fill it with books to return to the library and it's your job to help her get there. As you make your way through Dora's world, you'll meet some of her friends - Swiper the fox, who is notorious for swiping things and must be told firmly three times not to; Boots, Dora's monkey sidekick; Isa the iguana, who needs help finding a tool; Benny the bull and his fabulous balloon - you'll guide him to pick up some more friends; and others. As you complete each task along the way, the Fiesta Trio - a musical bug, frog, and snail - dances onto the screen bringing you a virtual sticker for your book.
Gameplay is through the mouse - point and click. At any time you can click on the Map character to find out where you are, and the level icon to adjust the difficulty. You also have a back arrow, to take you back a screen or to the sign-in page.
When you do go back to your sign-in page, you can click on your sticker book, choose a background, and decorate it with the stickers you've earned. When you've arranged your picture to your liking, print it! [source:mobygames]
Distribution :
Retail - Commercial
Platform(s) :
Macintosh
-
PC (Windows)
Links