Classification
RETRO SERIOUS GAME
(Edugame)
Keywords
Purpose
Besides play, this title features the following intents:
Licensed title
Educative message broadcasting
---
Market
This title is used by the following domains:
---
Audience
This title targets the following audience:
Age :
12-16
/
17-25
/
8-11
/
3-7
General Public
---
Gameplay
The gameplay of this title is
Game-based
(designed with stated goals)
The core of gameplay is defined by the rules below:
---
Similar games
---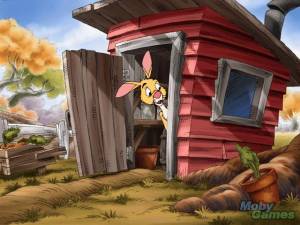 Disney's Winnie the Pooh Preschool is a point and click educational game based on characters and material created by the author/illustrator team of A.A. Milne and E.H. Shepard. It is a companion game to Disney's Winnie the Pooh Toddler and Disney's Winnie the Pooh Kindergarten.
Waking up from a nap in the Hundred Acre Wood, a puzzled Winnie the Pooh has the feeling he's forgotten something important and somehow arrives at the idea that it must be Eeyore's birthday. The player follows Pooh in his journey around the Wood to spread the news, dropping in on Kanga, Tigger, Owl, Piglet and Rabbit and helping them prepare a party through various activities and minigames.Kanga's Alphabet Soup - Kanga's soup is missing some letters; the player must match the letters from her cookbook and drop them into the soupPooh's Dream - helping Pooh sequence the pictures in his dream will allow him to rescue a stranded TiggerOwl's Family Tree - the pictures in Owl's photo album are way out of order; the player must help by grouping similar photosRabbit's Canning Encounter - Rabbit has to finish his canning before he comes to the party; the player helps by attaching number labels and counting fruits & vegetablesTigger's Popcorn Calliope - the player matches sounds to help Tigger finish building his music machine (which also makes popcorn!)Piglet's Pictures - the player follows Piglet's coloring guide to finish his pictures, and then adds collage materials. At higher levels he learns to mix colorsAs the player completes each minigame, party decorations and gifts from the characters appear in Christopher Robin's Party Place. Items there are a measure of the player's progress, or a parent can access the Progress Chart from the sign-in screen. The chart describes the skills covered by each activity, which include letter recognition, sequencing, same/different, auditory discrimination, color theory, number recognition and counting, among others.
From the map, players can also access Pooh's Print 'n' Learn which is a large collection of print projects - stickers, flash cards, bookmarks, ID cards, and an entire printable workbook that builds on the skills covered in the game. [source:mobygames]
Distribution :
Retail - Commercial
Platform(s) :
Macintosh
-
PC (Windows)
Links