Classification
RETRO SERIOUS GAME
(Edugame)
Keywords
Purpose
Besides play, this title features the following intents:
Licensed title
Educative message broadcasting
---
Market
This title is used by the following domains:
---
Audience
This title targets the following audience:
Age :
12-16
/
17-25
/
8-11
/
3-7
General Public
---
Gameplay
The gameplay of this title is
Game-based
(designed with stated goals)
The core of gameplay is defined by the rules below:
---
Similar games
---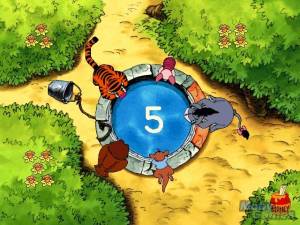 When Pooh floats down to land in the Hundred Acre Wood in Disney's Ready for Math With Pooh, he comes to earth in what will become a garden as the game progresses. The player signs in on a wheelbarrow and chooses a path from the three directions given - in each of these places he'll meet Pooh's friends; Piglet, Owl, Tigger, Eeyore, Roo, and Pooh himself, and play games designed to exercise his math skills at one of three levels.
Gameplay is identical to that of the sister game Disney's Ready to Read with Pooh: pointing and clicking the mouse will perform actions, the cursor is a little bumblebee that flutters it's wings whenever it is over a hotspot, and when dragging an object is necessary the game utilizes click-and-stick.Wishing Well - contrary to what you might expect, this well is wishing for something - a group of pictures that will match the number it showsTigger's Contraptions - this fabulous machine requires the player to feed it objects in a particular numbered orderEeyore's Faded Calendar - follow the snail to help draw in the faded numbersRabbit's Rain Dance - follow a sequence of pictures to complete this rain danceBug Collecting - sort bugs into a tray by color and choose which row has more or lessPiglet's Cupcake Kitchen - count cupcakes by frosting them, add them up and choose the correctly numbered sprinkle shakerPooh's Pantry - sort Pooh's fruit and vegetables from numbered baskets into jarsA player's success is rewarded by Gopher with prizes for his garden, such as seeds that will grow when they are planted and watered and decorations that animate when clicked on. Other rewards are printable, such as a Bug Collecting Certificate and a number banner depicting the jars in Pooh's Pantry, earned by completing those activities. Upon returning to the garden the player will find notes from the characters stuck to the back fence - when a note is clicked on, the character who wrote it will read it aloud.
As in Disney's Ready to Read with Pooh, the manual contains a Parent's Guide that shows which level of activity earns which prize for the garden, so parents can see what skills their child has mastered. The skills covered include ordinal numbers, number forming and recognition, patterns and sequencing, greater/less than, classifying, counting sequentially, addition and subtraction. [source:mobygames]
Distribution :
Retail - Commercial
Platform(s) :
Macintosh
-
PC (Windows)
Links