Classification
RETRO SERIOUS GAME
(Edugame)
Keywords
Purpose
Besides play, this title features the following intents:
Licensed title
Educative message broadcasting
---
Market
This title is used by the following domains:
---
Audience
This title targets the following audience:
Age :
12-16
/
17-25
/
8-11
General Public
---
Gameplay
The gameplay of this title is
Game-based
(designed with stated goals)
The core of gameplay is defined by the rules below:
---
Similar games
---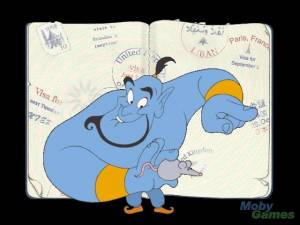 Based on the characters from the animated Disney movie Aladdin, Disney's Math Quest with Aladdin takes place in the fictional city of Agrabah, where the evil genie Bizarrah has just been set free from a long imprisonment in a lamp. The player, with assistance from Iago (the parrot) and the genie, must break out of the dungeon where Bizarrah has confined him, find Abu, Jasmine, and Aladdin, find all the pieces of the broken lamp, and lock Bizarrah away inside it for good.
To free the heroes, the player must perform tasks for street vendors, mix up magic potions, win tickets in a carnival booth, and solve puzzles to unlock doors. Each task, puzzle, and game is math oriented; there are symmetry puzzles, tangrams, mosaics, logic puzzles, sequencing and pattern puzzles, as well as addition and even elementary algebra.
The mode of travel is reminiscent of that in a Junior Adventure as the game uses point and click to move the player about the city. Iago and the genie offer sometimes comedic advice and help to keep the player on track by reminding him often of the next objective. More help is available from a hidden scroll at the top left of the screen, which unrolls to show icons for help, difficulty selection, save, return, and "rec room" - a screen where many of the game's puzzles are available for free play. [source:mobygames]
Distribution :
Retail - Commercial
Platform(s) :
Macintosh
-
PC (Windows)
Links