Classification
SERIOUS GAME
(Edugame)
Keywords
Purpose
Besides play, this title features the following intents:
Licensed title
Educative message broadcasting
---
Market
This title is used by the following domains:
---
Audience
This title targets the following audience:
Age :
12-16
/
17-25
/
8-11
/
3-7
General Public
---
Gameplay
The gameplay of this title is
Game-based
(designed with stated goals)
The core of gameplay is defined by the rules below:
---
Similar games
---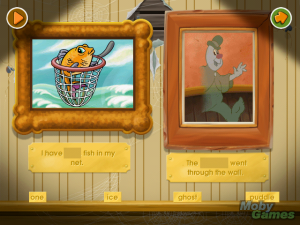 It's a dark and stormy night when Mickey and friends drop in at a haunted house looking for directions; the front door slams shut, locking the group in, and the five of them spread out to search the house for keys. The house is haunted by three friendly ghosts that only Pluto and the player can see; Shaky, Quaky and Clyde, who assist the group by making keys available as Mickey and pals solve six puzzles.
Silverware dances, a stuffed bear yawns and stretches, spiders scurry about as the player clicks on items in the six rooms; often two characters will converge in a room and hold a short conversation while the player is idle. Gameplay uses the mouse; to move from room to room the player clicks where the cursor becomes an arrow - at the edge of the screen, on the staircase and the secret passageway.
The activities are as follows:Piping Up - click the color-coded pipe organ keys to fill in missing notes in songs (once the key has been won the player is free to experiment with different styles of music and instrument sounds on the organ).
Scattered Volumes - Goofy has accidentally scattered books around the library floor and the player must shelve them, first in single letter order, then on shelves that don't contain all the letters, finally, using words that begin with the same letter.
Armor Disaster - Pluto has broken up the suits of armor in the dining room; the player reassembles them by matching numbers and equations and their solutions, sometimes represented by dots or a grouping of decoration.
Leaky Pipes - the pipes in the basement are leaking and the player must connect pipe sections before the bucket overflows.
Haunted Pictures - startled by a ghostly trick, Goofy has knocked down all the nameplates from the hallway pictures; the player must sort them out first by selecting the beginning letter, then by missing letter, and finally by missing word.
Haunted Gears - Mickey discovers that the bats living in an old grandfather clock have loosened its gears; the player returns them to place by finding rhyming words, opposites, and relationships between words.Disney Learning Adventure: Search for the Secret Keys comes equipped with a tutorial ghost who appears when a player seems to be struggling with an activity. Using his haunted chalkboard, this ghost explains and expands on the concepts used in the current activity in ways that a child can understand. A chart of the players progress is available from the sign-in screen. [source:mobygames]
Distribution :
Retail - Commercial
Platform(s) :
Macintosh
-
PC (Windows)
Links