Classification
SERIOUS GAME
(Edugame)
Keywords
Purpose
Besides play, this title features the following intents:
Educative message broadcasting
Training
---
Market
This title is used by the following domains:
Entertainment
Education
Ecology
---
Audience
This title targets the following audience:
Age :
0-3
/
3-7
General Public
---
Gameplay
The gameplay of this title is
Game-based
(designed with stated goals)
The core of gameplay is defined by the rules below:
---
Similar games
---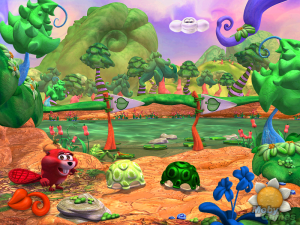 Three years after the release of their second game, Didi and Ditto: First Grade - The Wolf King, Kutoka releases the third title in their series starring the two colorful beavers - Didi & Ditto Preschool - Mother Nature's Visit. As the previous titles, this is an adventure/puzzle game, this one aimed at the 2 - 4 year old.
The story revolves around an impending visit from Mother Nature and the party the inhabitants of Smart Valley want to plan for her; when Zolt the wolf loses the mayoral election, he takes his revenge by breaking all the musical instruments and stealing all the food gathered for her party. The player must choose which beaver to play as in order to find the hidden food and repair the broken instruments.
From the map (signposts) screen, the player can choose where to go first to search for food items and instruments - the areas can be visited in any order. Each area has two puzzles for the player, and when a puzzle is completed he is rewarded with a party item to be stowed in a wagon until all the activities have been finished.
Every screen has "clickable" areas of surprise animations for the player to discover, indicated by a change in the cursor color. Gameplay is point and click with the occasional need for the spacebar for jumping activities, or to skip cutscenes.
Didi & Ditto Preschool - Mother Nature's Visit covers some basic pre-school skills, including pre-reading, pre-math, color and sound recognition, early science, and some thinking skills such as sorting and observation. [source:mobygames]
Distribution :
Retail - Commercial
Platform(s) :
Macintosh
-
PC (Windows)
Links