Classification
RETRO SERIOUS GAME
(Edugame)
Keywords
Purpose
Besides play, this title features the following intents:
Licensed title
Educative message broadcasting
---
Market
This title is used by the following domains:
---
Audience
This title targets the following audience:
Age :
12-16
/
17-25
/
8-11
/
3-7
General Public
---
Gameplay
The gameplay of this title is
Game-based
(designed with stated goals)
The core of gameplay is defined by the rules below:
---
Similar games
---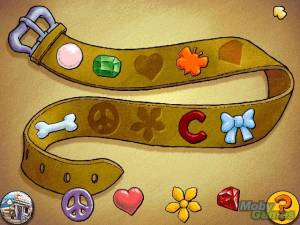 Clifford the Big Red Dog: Thinking Adventures is centered around a character created by author Norman Bridwell and featured in his series of children's books about the Big Red Dog and his owner, Emily Elizabeth.
After you sign in, pick a level, and choose four jewels for Clifford's collar, this point-and-click adventure takes you to Emily Elizabeth's room. Here you learn that it's about to be Clifford's birthday, and there are tasks to be completed before it's time for his party: taking Clifford to the groomer for bathing, cleaning up the yard, getting his birthday cake, and picking up a package from the Post Office. Outside, a bird lands on Clifford's nose, triggering a giant sneeze that scatters the four jewels all over the town - retrieving them is another task in the game.
At the bottom right of the screen is a rolled-up map you can use to get around town, or you can travel by clicking on paths on the main screen with your yellow arrow cursor. Next to the map is Emily's backpack, which serves as your inventory. To the left of that you'll see place-holders for the four jewels you picked at the beginning of the game - as you collect them they will appear here. The largest spot on the bottom of the screen shows the tasks you need to complete, and in the left corner is a stop-sign icon used to quit the game. On the activity screens, you'll have two icons at the bottom - a button on the left to return to your game, and a question mark on the right if you need help. Additional help can be found in the game manual under Hints for Parents - basically a cheat-sheet listing the location of items needed to finish the game.
Visually, this game is much like Clifford the Big Red Dog: Reading since the art in both games is patterned after the cartoon-style art of author Norman Bridwell, but the gameplay is more that of an adventure game sprinkled with mini-games, as you have to collect items and use them to advance through the story. Clifford's Back Yard - Use the shovel to dig up objects Clifford has buried and match the things that belong together (this cleans up the yard for the party)Grooming - Bribe the Bleakman's with a popsicle and they'll let you bathe Clifford in their swimming pool; you can suds him up and brush him, give him a new hairstyle, color his fur, and take a picture...The Market - Clifford's size causes trouble yet again as he knocks over a grocery display; put the produce back into place and fix a jigsaw puzzle in this ordering skills activityCake Decorating - A printable painting and stickers activityTraffic Jam - Clifford's chivalrous scarf-retrieval causes a traffic snarl in town; click on a car and follow directions to deliver it to its destinationSwimming - Rescue a stranded dog in this mini-arcade game by moving Clifford through the ocean with the mouse. Avoid waves and seaweed, and keep up Clifford's energy by munching fish sticksSoccer - Clifford gets a soccer ball for his birthday; pick your opponents a
Distribution :
Retail - Commercial
Platform(s) :
Macintosh
-
PC (Windows)
Links