Classification
SERIOUS GAME
(Edugame)
Keywords
Purpose
Besides play, this title features the following intents:
Licensed title
Educative message broadcasting
---
Market
This title is used by the following domains:
Entertainment
Education
Ecology
---
Audience
This title targets the following audience:
Age :
12-16
/
17-25
/
8-11
/
3-7
General Public
---
Gameplay
The gameplay of this title is
Game-based
(designed with stated goals)
The core of gameplay is defined by the rules below:
---
Similar games
---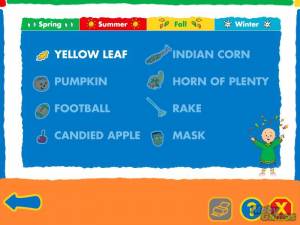 Play through the year with Caillou, the bald-headed little boy - animated star of the PBS series based on books written by Christine l'Heureaux and illustrated by Helene Desputeaux.
After you sign in and choose a season, Four Seasons of Fun opens on Caillou?s room, where you help Caillou get dressed to go outside by picking the appropriate clothing for the season ? select the long pants for winter, for instance, by clicking on them and dragging them to Caillou to dress him. Some of the options are deceptive; several of the hats and shirts should logically be appropriate for more than one season, but aren?t allowed. However, there is no ?penalty? for wrong choices, just a gentle suggestion to try again.
After you have dressed him, Caillou goes outside. Here there are a number of interactive objects and games to play, and you have the opportunity to pick up or win items to place in Caillou?s Nature Book. There are icons along the bottom of the screen that you can select to go home, view your Nature Book, access help, or exit the game, and as you run your cursor over the icons a character speaks the options aloud in a clear, friendly voice. Arrows that appear at either side of the screen will take you forward to the next screen or bring you back to the previous one ? very easy for a young child to understand and use.
Each season has it?s own activities as well as some that are available year-round: in the fall you can help Caillou clear a path through the leaves on the playground by clicking on the tiles showing the letter he names. In spring, there is a see-saw game where you can help Caillou balance by choosing a partner for him whose number matches a number on the screen. In winter, help Caillou match his snowman to the one his father built.
There is a Bouncin? Ball game in each season (In winter the ball is actually a snowball.) ? you select a word that rhymes with a word Caillou says by throwing a ball at it, and a Race Along game (Or skate, or skateboard, depending on the season), where you have to decide whether to move under, over, or around obstacles in your path.There is a Picture Perfect game; choose the items that don?t belong in the picture onscreen. This, like dressing Caillou, can be a little confusing at first when you are unable to remove beach-related things from the lawn in front of a house ? however, it?s the season that is the important factor here!
Four Seasons of Fun will give the 2-6 year-old child practice in several early-learning areas including decision-making, letter and number recognition, pre-reading skills, and ordering of events. [source:mobygames]
Distribution :
Retail - Commercial
Platform(s) :
Macintosh
-
PC (Windows)
Links