Classification
RETRO SERIOUS GAME
(Edugame)
Keywords
Purpose
Besides play, this title features the following intents:
Educative message broadcasting
---
Market
This title is used by the following domains:
---
Audience
This title targets the following audience:
Age :
12-16
/
17-25
/
8-11
General Public
---
Gameplay
The gameplay of this title is
Game-based
(designed with stated goals)
The core of gameplay is defined by the rules below:
---
Similar games
---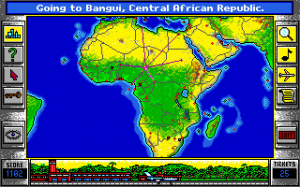 Application software experts PC Globe Inc. made an advance into the gaming sector in the early 90?s within their field of expertise: geography. With a back catalog of several installments of the then-leading world atlas and almanac software, PC Globe, the company turned snippets of country-specific info into an educational game that mixed two-player ?Identify that place? strategy with a ?Get to know the globe? learning effect ? can you say Carmen Sandiego?
As the sinister Otto von Slinkenrat tries to pocket the world?s treasures in his private collection, renowned adventurer Bush Buck sets out to find and secure the valuable objects for posterity. In a race around the globe, you and an opponent travel back and forth between 206 cities in 175 countries in search for clues to the treasures? whereabouts. Cities are connected by a network of plane routes; players take turns in jetting from one destination to the next. On each visit to a city, you learn some background info ? e.g. about landmarks, geography, culture.
Learning to place countries and cities on the globe is essential to finding the treasures, which are all linked to a specific place on Earth. If you know that a Samisen is a Japanese musical instrument, for example, you can make your way directly to Tokyo; if not, a set of clues that you collect on your travels will point out features of the target country and town which help narrow down your options ? e.g. ?It?s an island country?, ?It?s in East Asia? etc. The first player to visit the target town collects the treasure and has to return it to his home base for a points reward.
For each game, the computer selects 15 out of 400 possible objects; if all are found or if both players run out of plane tickets (each flight costs one ticket), the game ends and whoever has amassed the most points wins. Three difficulty levels increase the AI strength and reduce helpful hints, making Bush Buck a challenge even for experienced globe trotters. [source:mobygames]
Distribution :
Retail - Commercial
Platform(s) :
Amiga
-
PC (Dos)
Links