Classification
SERIOUS GAME
(Edugame)
Keywords
Purpose
Besides play, this title features the following intents:
Licensed title
Educative message broadcasting
---
Market
This title is used by the following domains:
---
Audience
This title targets the following audience:
Age :
12-16
/
17-25
/
8-11
/
3-7
General Public
---
Gameplay
The gameplay of this title is
Game-based
(designed with stated goals)
The core of gameplay is defined by the rules below:
---
Similar games
---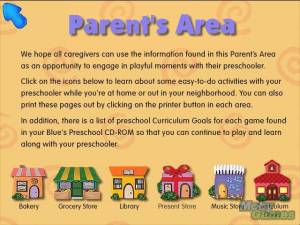 Published by Infogrames in 2002, the same year as Blue's Clues Kindergarten, Blue's Clues Preschool offers a similar game experience. The story takes you and Blue, star of the paper-cutout-animated television show, to her pre-school classroom, where Miss Marigold assigns a neighborhood adventure to the class. You, Blue, and other members of Blue's class will visit five places and bring back something from each location.
After you choose a color and level and sign in, clicking on the cloud in the upper left corner of your screen takes you to a "Likes" page - the color, animal, food, song, and sport you choose here will be used somewhere in the game. The Parent's area is also accessible here, showing the curriculum goals for the game, and giving parents suggestions for additional activities connected to each neighborhood location. Gameplay uses the mouse (point, click, and drag) and an optional printer for the printable pictures and games available in Miss Marigold's classroom.
As you and Blue travel through the neighborhood (escorted by Blue's human friend, Joe, who drops you off at each location), you'll visit these places:The Music Store - Listen to Purple Kangaroo and play instruments in the same order he doesThe Bakery - Learn how to wait your turn and practice finding shapes and colorsThe Library - Match letters or find the first letter describing a picture as you help shelve some library books - choose a book to read as a rewardThe Present Store - Wait on customers; help them find the gift they can afford and count the moneyThe Grocery Store - Find ingredients described by Mrs. Pepper, put them in your cart, then check and bag themAs you finish each area you'll receive a special shape and the neighborhood location is checked off on Miss Marigold's List, which appears as an icon on the top right. Once all the locations are checked off, return to the preschool classroom to discover what the teacher will do with the items you've collected.
On it's most basic level, Blue's Clues Preschool introduces the toddler to some of the places in a community and what they're for, using characters the child is most likely already familiar with. While he plays, he's practicing some of these skills: color/shape recognition, auditory memory and discrimination, letter recognition/pre-reading skills, number recognition, counting/addition, spatial and size relationships. A higher difficulty level will change the game somewhat to suit the child's learning progress. [source:mobygames]
Distribution :
Retail - Commercial
Platform(s) :
Macintosh
-
PC (Windows)
Links