Classification
RETRO SERIOUS GAME
(Edugame)
Keywords
Purpose
Besides play, this title features the following intents:
Educative message broadcasting
---
Market
This title is used by the following domains:
---
Audience
This title targets the following audience:
Age :
12-16
/
17-25
/
8-11
/
3-7
General Public
---
Gameplay
The gameplay of this title is
Game-based
(designed with stated goals)
The core of gameplay is defined by the rules below:
---
Similar games
---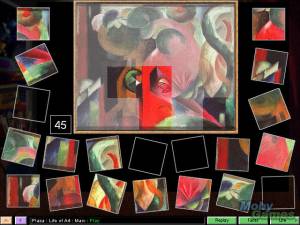 ArtRageous! is a series of games and other interactive learning activities centered around art history. The learning adventure begins in a virtual plaza where the player/student can choose from a number of destinations to visit. Among the destinations are sizable, cross-referenced databases of both paintings and painter biographies.
The main attraction of Artrageous! is the rich variety of activities present. The activities cover 5 categories of understanding and appreciating art: Color, light, perspective, composition, and the life of art. The color category includes a color mixing game in which you must use varying amounts of red, blue, and yellow components to build a hue/saturation color wheel. Another activity demonstrates the effect of adjusting the brightness or contrast of a picture. These and other activities are supplemented with narrated explanations of color concepts.
The activities covering light include a sphere with lights placed around it-- click on one of the lights to understand the visual effects of different light sources. Also, a game that explains light demonstrates how outlines create shape. The player's goal is to match a number of outlines to their respective images within a mish-mash painting.
One of the perspective category games is to arrange a roomful of floating objects where they would fit more appropriately on the painting backdrop. Both the painting and the objects are drawn with a 3D perspective which gives the player clues about placement. Further, the player can elect to bring up a vanishing point line grid for help.
The composition section demonstrates how elements of paintings convey meaning. One game that illustrates this concept asks the player to match which shape or concept (circle, triangle, balanced scale, or unbalanced scale) best represents each of a selection of paintings.
The life of art category features a jigsaw puzzle game using square pieces. The player must re-assemble the puzzle in a given period of time. [source:mobygames]
Distribution :
Retail - Commercial
Platform(s) :
Macintosh
-
PC (Windows)
Links