Classification
SERIOUS GAME
(Advergame)
Keywords
Purpose
Besides play, this title features the following intents:
Marketing & Communication message broadcasting
---
Market
This title is used by the following domains:
Entertainment
Advertising
---
Audience
This title targets the following audience:
Age :
17-25
/
25-35
General Public
---
Gameplay
The gameplay of this title is
Game-based
(designed with stated goals)
The core of gameplay is defined by the rules below:
Comments
Taxonomy
"This game promotes the nude model Alison Angel"
---
Similar games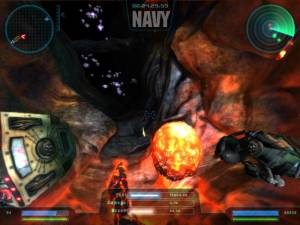 Navy Training Execice (NTE): Strike & Retrieve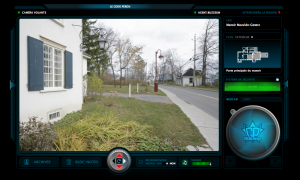 Le code perdu : musée de la civilisation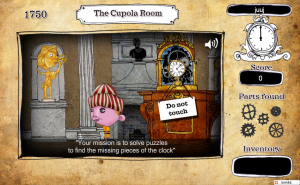 Enchanted Palace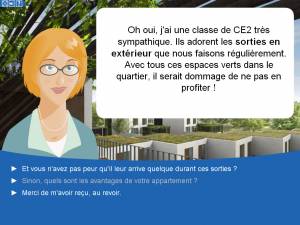 EcoReporter : A la découverte d'Andromède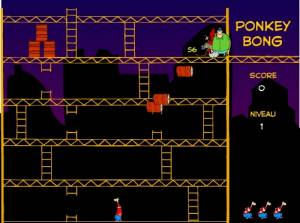 Ponkey Bong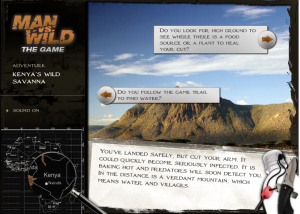 Man vs. Wild: The Game
---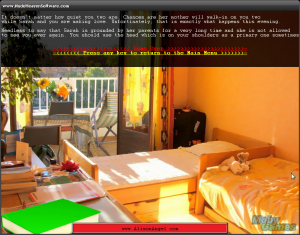 After the summer break the player enters his high school where he sees the new transfer student - Sarah - for the first time. After initiating a conversation, the player starts the "adventure" of avoiding endless game-over-sequences to ultimately get Sarah in his bed.
The game is composed of a series of background images (and two cinematics) and in each of them the player has to choose from a set of responses to reach the next part of the game. The game is completely mouse driven, simply by clicking the answer your character should say - or do.
Despite having between 2 and 10 (usually 3) options to choose from, there is only one possible path. If the player is acting too shy, overdoing, guessing, acting out of the normal (i.e. drugs), can't calculate (yes, you have to do a math calculation at some point), or simply uses other parts of the male body not designed for thinking ;), chances are high to experience one of the countless game over sequences.
Once it's game over, you have to start from scratch. There are no savegames supported. [source:mobygames]
This game promotes the nude model Alison Angel.
Distribution :
Retail - Commercial
Platform(s) :
PC (Windows)
Links