Classification
SERIOUS GAME
(Advergame)
Keywords
Purpose
Besides play, this title features the following intents:
Marketing & Communication message broadcasting
---
Market
This title is used by the following domains:
Entertainment
Advertising
---
Audience
This title targets the following audience:
Age :
12-16
/
17-25
General Public
---
Gameplay
The gameplay of this title is
Game-based
(designed with stated goals)
The core of gameplay is defined by the rules below:
---
Similar games
---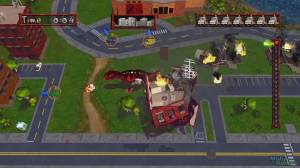 In Doritos: Dash of Destruction, players have the choice of playing a a Tyrannosaurus Rex or a Doritos delivery truck. In either case, they must go through a series of six 3/4 view maps which are city-themed with roads, building, lakes, etc. In each map, their character is upgraded with new abilities, such as faster speed or tighter turns. The player controls their character with the thumbstick and has a limited turbo dash.
In the driver game, players avoid the T-Rex while attempting to drive over delivery icons to deliver Doritos. Running into a building slows the player down, and getting eaten causes them to reset elsewhere on the map. In the Tyrannosaurus game, players attempt to catch and eat Doritos delivery trucks. In order to do this, they can stomp through the buildings, crunching them; though this also slows them down.
In some levels, the objective is to get a certain number of deliveries or eats before time runs out. In others, there will be a competing T-Rex or delivery truck and the player must rack up a target number of eats or deliveries before they do.
Additionally, there are two multiplayer modes. There is a tag-like Zen Mode where one player is a truck and the rest are T-Rexes. Eating the truck makes you the new truck. The goal is to reach a target number of deliveries first. The other is Chaos mode, where players are either a T-Rex or delivery truck for the whole match and the goal is to be the first to reach a target number of deliveries or eats.
Doritos: Dash of Destruction is free to download and play. [source:mobygames]
Distribution :
Retail - Commercial
Platform(s) :
Xbox 360 (X360)
Links