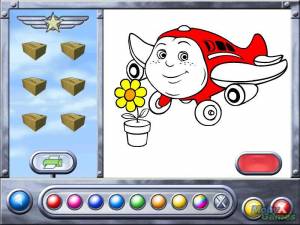 Jay Jay the Jet Plane is the hero of a CGI children's cartoon series featuring a group of animated aircraft and their friends.
The action in this game begins at the fictional Tarrytown Airport, Jay Jay's home, where he is excited to hear that he's almost ready to take on his own route and fly solo. Before he can do that, however, he must fly a few more training flights to six locations where he will pick up packages, only then returning to Tarrytown.
The player uses the mouse to point and click - when the player needs to pick up an item the game uses click-and-stick, a common feature in children's games, where one click picks up an item and it sticks to the mouse without holding down a button, and another click releases it. On-screen icons are very simple stylized buttons; on the bottom left is an arrow to go back, on the bottom right are a question mark for help and an X to exit. During the activities you also have level icons (1, 2, and 3) on the right.
You can choose your destination from the map in any order you like; there are six places you can go to, plus question marks that take you to short informational videos with Brenda Blue, a human aircraft mechanic. At each destination there's a game to play:At Ridgeway, Jay Jay can't get to the hangar to pick up the package because the runway is in terrible shape; pick puzzle shapes from a tray to patch holes on the runway. At higher levels there are more holes and gaps
At Lightning Bug Lake, Jay Jay offers to help Tracy judge a light show contest; watch the patterns a pair of lightning bugs make, then pick the pair that matches them exactly. At higher levels the patterns are more complex
At Sandy Landing, Big Jake needs help measuring the height of some cargo in the hangar; instead of traditional measurements, pile up objects to reach the same height, then click on the number of objects you used. For example, it took three oilcans to equal the height of a rake. At the highest level, estimate the quantity first
At Frosty Pine, Herky the Helicopter skis down an icy slope to pick up a package Jay Jay cannot get to; as he calls out a number, click on the flag that matches it. At the highest level solve an addition problem
At Smiling Meadow, Jay Jay helps Snuffy the Skywriter pick apples; sort apples into baskets by color. At higher levels, you sort by color and quantity, or read the spelled-out color
At O'Malley's Ranch, Jay Jay and Old Oscar play a game of I Spy while waiting for a package; pick the animal that Oscar describes out of a group. At higher levels there are more specific clues and more choicesWhen all six packages have been picked up, you can return to Tarrytown airport, where Jay Jay gets a celebratory surprise - the packages are for him, and each one contains a picture the player can color and print. [source:mobygames]
Distribution :
Retail - Commercial
Platform(s) :
Macintosh
-
PC (Windows)
Links