Serious Game Classification
Free Rice (FreeRice) The United Nations World Food Programme / John Breen (International), The United Nations World Food Programme / Berkman Center for Internet / Society at Harvard Uni (International), 2007 Jouer à ce jeu !
Classification
SERIOUS GAME
Mots-clés
Intention
En plus de son aspect ludique, ce titre à pour intention de :
---
Marché
Ce titre est utilisé au sein des domaines suivants :
---
Public
Ce titre s'adresse aux publics suivants :
Age :
8-11
/
12-16
/
17-25
/
25-35
/
35-60
/
60+
Grand Public
---
Gameplay
Le gameplay de ce titre est de type
Jeu
(avec objectifs explicites à accomplir)
Le coeur du gameplay est créé par les règles :
---
Jeux similaires
---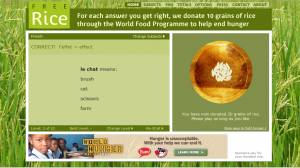 Ce Serious Game est un quiz basé sur le vocabulaire. Il est également possible de trouver des correspondances entre des mots de différentes langues. Chaque bonne réponse permet de gagner des grains de riz qui sont expédiés aux pays du tiers monde par des associations caritatives.
Distribution :
Internet - Free
Support(s) :
Browser (Java)
Liens additionels
---
---