Classification
SERIOUS GAME
(Exergame)
Purpose
Besides play, this title features the following intents:
---
Market
This title is used by the following domains:
---
Audience
This title targets the following audience:
Age :
25-35
Professionals
---
Gameplay
The gameplay of this title is
Game-based
(designed with stated goals)
---
---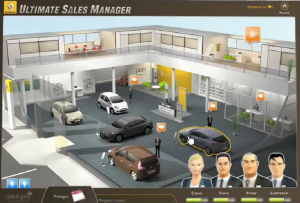 Renault Academy (training direction of Renault) wanted to train all the salespersons of their network at a worldwide level using the benefits of Serious Game. This Serious Game had to be appealing and to allow the learners to immerse themselves to raise the commercial performances of the players. The player is in charge of a virtual Renault dealership. The sales are plummeting and the player has the mission to boost the sales team (of 4 people) and the outcome of the garage within a month.
The game provides a rich learning environment, with dialogue simulations, virtual offices and quizzes. The game emphasis on replayability by being separated in 4 weeks that can be saved and replayed separately to reach a higher score. The playerís garage faces the competition of four other similar garages. After each week, the sales team gives a feedback on the way the player managed the garage and a new ranking of the best-selling garages is provided.
The goal is to give the sales managers a global tool to improve their management of the garages. Though, the game aims specifically at behavioural learning. The main aspects are: dealing with difficult clients, fixing sales objectives, managing conflicts within the sales force and managing the front sales room according to the brandís standards.
The game allows the managers to face the consequences of their acts within the safety of a virtual environment.
Distribution :
Internet - Commercial
Platform(s) :
Macintosh
-
PC (Windows)
Links