Classification
RETRO SERIOUS GAME
(Edugame)
Keywords
Purpose
Besides play, this title features the following intents:
Educative message broadcasting
Training
---
Market
This title is used by the following domains:
---
Audience
This title targets the following audience:
Age :
8-11
/
12-16
/
17-25
General Public
&
Students
---
Gameplay
The gameplay of this title is
Game-based
(designed with stated goals)
The core of gameplay is defined by the rules below:
---
Similar games
---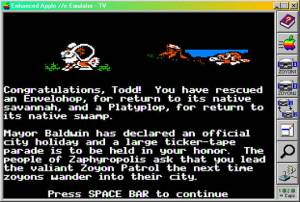 Zoyon Patrol was an early educational simulation game, produced by MECC for the Apple II computer. In the game, the player is the director of the Zoyon patrol, located on the fictional Zaphyr Island (supposedly located at 7°52' S, and 178º28' E, which is appoximatley 15 mile NNE of Fale).
A Zoyon is a fictional creature, whose names and features are combination of pre-existing creatures. For instance one Zoyon is called Catamonk, and it shares feature of a Cat and Monkey. An Elecoon has features of an Elephant and a Racoon.
As the director of the Zoyon Patrol, the player would be charged with taking messages about Zoyons, identifying the Zoyon in question, Trapping it alive, and arranging for its safe return to its native habitat. Every Zoyon is to be considered an endangered species.
To do this the player has all the resources of the Zoyon Patrol at his fingertips. The game goes to the main menu which has a number of options.
Before you play you choose a difficulty. Beginner mean you have lots of information, no false calls, and you are only chasing 1 of 8 possible Zoyons, all of which have lots of data. At Intermediate, some of your calls might be fake. There are 24 possibly targets, and some of the information is not complete. In Master mode you have 40 zoyons, lots of false leads, and lots of missing data. In Grand Master you have the ultimate Challenge: Tying to catch 2 zoyons at once. In each mode you get a $10,000 budget.[source:wikipedia]
Distribution :
Retail - Commercial
Platform(s) :
Apple II
Links