Classification
RETRO SERIOUS GAME
(Edugame)
Keywords
Purpose
Besides play, this title features the following intents:
Educative message broadcasting
---
Market
This title is used by the following domains:
---
Audience
This title targets the following audience:
Age :
12-16
/
17-25
/
8-11
General Public
---
Gameplay
The gameplay of this title is
Game-based
(designed with stated goals)
The core of gameplay is defined by the rules below:
---
Similar games
---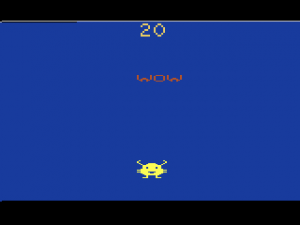 This game was designed to help teach children addition, subtraction and counting. Eli needs to return to his spaceship. You move him up the ladder by solving addition or subtraction problems. A problem appears with four answer choices below. Move the joystick left or right to select your answer then press the button. After 20 questions, Eli reaches his ship. If you got 18 or more answers correct, Eli will jump for joy and there will be a flashing word WOW.
The child always uses the right joystick. In two player settings, the left joystick is used by the parent to advance to the next problem, start the game and count apples. In one player, you advance automatically.
The left difficulty switch is used to select one or two player. The right difficulty switch is used to select addition or subtraction. These must be selected at the main menu before you begin your game. The game select switch returns you to the main menu if you are in a game or changes the game number on the main menu. The TV Type switch switches in and out of the counting screen in a game or set the speed of the pacer (timer) on the main menu.
There are three types of games, each with up to ten difficulty levels. In game type one, called Practice, there is no time limit. The child can take as long as needed to answer the problem. In game type two, called Pacer, there will be a plus or minus sign at the bottom that moves from left to right. If it reaches the right side barrier, the problem is marked as wrong then it is on to the next problem. You can set the pacer speed from the main menu with the TY Type switch. If your difficulty level allows for counting, when you switch to the counting apples screen, the timer stops and when you return, it resets. In game type three, called Phantom, in addition to having a time limit, the only answer selection that shows is the one that the arrow is under. [source:mobygames]
Distribution :
Retail - Commercial
Platform(s) :
Atari 2600
Links