Serious Game Classification
Orwell: keeping an eye on you (Orwell) Osmotic Studios (Germany), Osmotic Studios (Germany), 2016
Classification
SERIOUS GAME
(Newsgame)
Purpose
Besides play, this title features the following intents:
Educative message broadcasting
Informative message broadcasting
Storytelling
---
Market
This title is used by the following domains:
State & Governement
Military & Defence
Education
Politics
---
Audience
This title targets the following audience:
Age :
17-25
General Public
&
Students
---
Gameplay
The gameplay of this title is
Game-based
(designed with stated goals)
---
---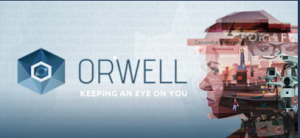 The Game can be found on Steam. The first chapter is free. Its a Game about a surveillance state, where you play the Investigator. You work for a State Project called "Orwell" and watch the online activities of Suspects. In the Game you have to decide, wether you want to share some information. Its interesting, because you can decide, what information is relevant and on which side you are in this process. While playing the Player gets invested and thinks about how easy it is to find Information just with the digital footprint. The Net of Suspects grows more and more. This Game is educational, because you think about your own digital foorprint, live in a surveillance state and you "work together" with a computer, who cant decide if something is sarcastic or not. So this game also shows the technical progress and what artificial scanning programs are able to detect. The Game uses vulgar language, so the students should be older.
Distribution :
Commercial
Platform(s) :
Macintosh
-
PC (Windows)
Links
---
---