Classification
SERIOUS GAME
(Edugame)
Keywords
Purpose
Besides play, this title features the following intents:
Educative message broadcasting
Training
---
Market
This title is used by the following domains:
---
Audience
This title targets the following audience:
Age :
3-7
General Public
---
Gameplay
The gameplay of this title is
Game-based
(designed with stated goals)
The core of gameplay is defined by the rules below:
---
Similar games
---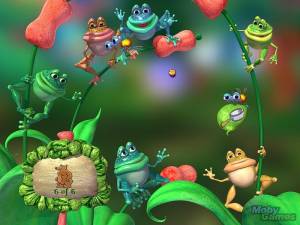 Adventure filled with games and interactive fun for the 4 to 6 year-old.
Didi and Ditto are two animated beavers whom we see being interrupted in a game of vegetable tennis, when a hungry ? vegetarian! ? wolf attempts to steal their vegetable ball and traps Ditto in a hollow log instead. The beavers promise to find him some food in exchange for releasing Ditto, and your quest is about to begin.. Choose a beaver to perform the search, choose a skill level and you?re off!
The game uses both the mouse and keyboard ? the mouse to select and perform most actions, the keyboard for entering letters and using the arrow keys for some movements (Although you can also use the mouse for this). Moving your cursor ? which takes on a Didi & Ditto-themed shape ? to the bottom of the screen will allow the carry-sack to pop up to deposit fruits/vegetables you have won, and gives you access to the back ?leaf? and the options ?leaf?. In addition, some of the F-keys are mapped for this and for bringing up the savegame screen. The F6 key allows you to unlock all the activities that are unavailable from the activities screen until they have been played through successfully.
There are several recurring characters you?ll meet at each stopping place ? a joke-telling bug, a hapless wizard owl, a very shy blue bear, a pair of turtles who have a hard time keeping their shells on, and others, giving the young player a sense of continuity and familiarity.
From a hilltop, your character has a view of the entire valley and you can choose which area to explore ? there?s no pre-determined order to the games. There are seven areas and fourteen mini games; fourteen spaces in your carry-sack for hard-won fruit and vegetables to take back to the wolf. Some of the games you?ll encounter are: Paint Easel ? Select a picture and color it in with painting toolsFalling Leaves ? Catch leaves and place them on the matching shapeBlowing Bubbles ? Finish a pattern by catching the appropriately shaped bubbleScarecrows ? Match the letter to the picture that starts with itPond Crossing ? Cross the pond on color-coded lily pads to the leaf that solves an equationGrease Making ? Press the lever to select letters for completing a word?this leads right into the next activity: Buggy Ride Buggy Ride ? Careen along a precarious mountainside path, ducking and jumping to avoid obstacles ? an arcade-style gameand many more?If you are stumped at any point, click on your character to get hints and clues.
Didi and Ditto: Kindergarten explores a great number of skills and concepts that are part of the kindergarten curriculum, among them; counting, sequencing, spelling, early math, shapes, sound sequence, and rhyming. This is the first in a series of games, followed by ?Didi and Ditto: First Grade: The Wolf King?. [source:mobygames]
Distribution :
Retail - Commercial
Platform(s) :
Macintosh
-
PC (Windows)
Links